Zapier
Zapier was founded in 2011 in Columbia Missouri by Wade Foster and Bryan Helmig. During their first attempt to get funding, the idea was rejected. The second time around, in 2012, Zapier was accepted into the Y Combinator Startup Seed Accelerator with their initial prototype that had 25 app integrations. Since then Zapier has been a go-to for simple software automation for many businesses.
What is Zapier?
To start, Zapier is no-code automation software. No-code means exactly what it sounds like. There's little-to-no coding involved, so you don't have to worry about building anything into the software for your automation. This is what primarily makes it a great tool for a newbie to try out.
Zapier helps you automate repetitive tasks between two or more applications such as email and alerts. You can use it without having to build anything out yourself which will save you time and energy and hassle if you're not used to using this type of software.
It allows you to automate your tasks from app to apps, (such as between Slack and Gmail) to save you time. It eliminates the process of you having to go in and actually carry out tasks like emails and sending notifications to your team.
Zapier's Mission Statement
Zapier is on a mission to make automation incredibly easy and accessible to everyone at work. It's simple, and straight to the point. It makes perfect sense for an automation software company to have this concept as their north star. After all, the main goal of automation and no-code software is to do simple tasks so you don't have to.
Their statement goes on to say they believe there are jobs a computer is best at, and jobs a human is best at. Zapier's main goal is to help people automate everything they possibly can to put their time and energy towards more important tasks.
How Does Zapier Work?
Before looking at how Zapier works, it's important to understand what automation in its simplest form it. Automation is the process of actions happening between two applications. So, it works by the functions of when one thing happens, it triggers an action in another app. For example, when you get a new lead from a contact form, you can automate notifications to send to your team in Slack. This cuts out the time you'd have to spend creating and sending the notification yourself after going in to see that the form was filled out. 
Zapier allows you to create automated workflows, so you don't have to do it manually. You can set up Zapier to send out an email when you post a blog on your website to your database of leads. Automation has become the best friend of many small business owners utilizing social media and other online platforms. 
If you find yourself doing the same task over and over again such as sending out emails, Zapier can take care of that for you with automation. Whenever you have to move data from one app to another, Zapier can be used to do that too. Basically, this automation can do any simple tasks that only require basic information. They can't for instance, send a personalized email using your tone of voice unless you've specifically instructed Zapier to do so. Consequently, it's always a good idea to define your automation before setting it up, so you can create an email template for Zapier to work with.  
The Zapier software is simple to use, and you can manage all of your actions in one spot. You won't need to go to a second location to carry out tasks, and there are thousands of integrations built into the system. 
Zapier has specific terms to define areas in the automation process that users should be familiar with. 
Zaps
Zaps are automated workflows that tell your apps to do the commands you've set up, i.e. when this happens, do that model. Each zap will need a trigger that you create and one or more actions. 
Trigger
The event that will start the Zap, such as getting a response to a form.
Actions
"What the zap does..."
Once you're familiar with the idea of Zaps, Zapier takes it one step further and has created templates for you that you can choose from based on your apps. Zapier has many application integrations, but it's important to check out whether or not they support what you need before signing up.
Native Integrations
Zapier has an extensive native integration library. With over 4,000+ apps, you'll surely be able to find what you need. This makes it a great option for an automation software that doesn't take much time to set up. There's a page on the Zapier website dedicated to searching through their native integrations to make sure they have what you need. You can browse by most popular, or categories such as Business, Communication, and Human Resources. You can check these integrations out on Zapier's website, or use our Application Finder to help you find the right kind of app for your business needs.
Zapier has a lot to offer compared to something like Automate.io, which once built a similar type of automation software, but could not compete at a feature level with Zapier and shut its doors in early 2022. Zapier has a database of their native integrations you can browse below.
Another feature that the paid Zapier plans have is the ability to connect apps not already in their integrations that have Webhooks. That will be explained as we get into pricing.
Pricing
The good news is, if you'd like to try Zapier on a small budget, there's a free version. It's even listed as 'free forever.' You can also do a free trial of their paid plans to see if they're for you. As Zapier is a no-code software, no plan requires you to do an ounce of coding (unless you want to). Almost everything is built into the software for you, and the more you pay the more features you get in your plan. Since we already know what Zaps are, let's go over a few other terms that can be found when comparing Zapier's plans. 
Multi-Step Zaps
Multi-step Zaps are Zaps that have one trigger that can perform as many actions as you want. They are only available in the paid plans.
Tasks
Tasks are the actions your Zaps can do. Each plan comes with a certain amount of tasks your Zaps can carry out per month, with upgrade options.
Transfer
The Transfer feature lets you move data from one app to another, which is very useful.
Premium Apps
As you can guess from the name, premium apps are integrations only available to paid users.
Formatters
Formatters are a useful tool that can be used to tweak the text to get it into the format you need and customize your actions.
Connections
The connections via Webhooks feature give Zapier a leg up on Automate.io. This feature allows you to create custom integrations with any app that has Webhooks.
Update Time
Update time means how often Zapier checks for new data to restart your Zap.
Free Plan
Zapier's generous free plan lets you get up and running right away! You can build, and test your zaps before you decide to pay for the software. The Zapier Free plan is the perfect starting point on your automation journey.
5 Single-step Zaps 

15 Min Update Time

Transfer 
Starter 
Zapier's Starter plan is a great next step on your quest to save time and money with automation, allowing you to connect Premium apps such as Salesforce and Quickbooks.
20 Multi-Step Zaps 

15 Min Update Time 

3 Premium Apps 

Filters

Formatters
Professional 
You are now a professional automator with ample time and resources to get everything done that you need to. The next level in Zapier's plan is normally reserved for the most elite of automators, giving you access to Unlimited multi step zaps and unlimited premium apps.
Several upgrade task options for higher monthly rates 

Unlimited Multi-Step Zaps 

Transfers

Unlimited Premium Apps 

Auto replay
Team
If you want to bring your team along with you on your automation crusade, then the team plan may be what you are looking for. In addition to allowing you to add your co-workers, it also upgrades you to a 1 minute update time, which means your zaps trigger even faster!
Upgrades for more tasks with higher monthly rates 

Premier support

1 Min Update Time 

Folder permissions

Shared app connections
Enterprise Features
As far as being used for an enterprise, Zapier has a lot more to offer than similar competitors. The plans offer large amounts of tasks and the ability to add many users to the team plans.
The data transfer feature will be very beneficial for an enterprise, as well. The higher up you go into the plans, there are several features like training and shared workspaces that will be beneficial to a business like user provisioning and Single sign on.
Zapier also focuses on utilizing automation to connect with your customers. Use automation to generate leads and add them to your newsletters and other notifications to help engage them.
For enterprises that have an app they would like to integrate, it's free to do so on Zapier's developer platform. They advertise that it's a great place to get exposure and encourage people to use your product.
Company Plan
The final plan, aimed squarely at medium-large companies allows you to truly experience all Zapier has to offer, affording you the following benefits in addition to everything you get on the lower tiers:
Advanced admin permissions

User provisioning (SCIM)

1 Min Update Time 

SAML single sign on (SSO) 

Custom data retention

Live training with customer success
To put it simply, the Zapier plans give you plenty of options to choose from. The free plan, of course, has many limitations but the higher you go up in price you get tons of functions. One benefit Zapier has that Integrately is lacking in is that you get unlimited Zaps as soon as you start paying for a plan. 
All paid plans have the option to upgrade your monthly amount of tasks for a higher fee. It can add up quickly, so be sure you absolutely need that many Zaps. You can check out all of the pricing options here.
Overview of Zapier's Interface 
One of the best parts of Zapier is its user-friendly interface. No-code automation software is designed to be as easy to use as possible. You can sign up for the free version with no obligations to check it out. You'll be greeted with this screen
As you can see, it's a very simple design. The dashboard is where you'll be able to keep track of your workflows. As you increase to higher price point plans, there will be more options available to you. To create a Zap, you'll need to click on the Zap tab, of course. When you click on 'Create a Zap,' you'll see this screen. Everything is laid out for you to make it as easy as possible.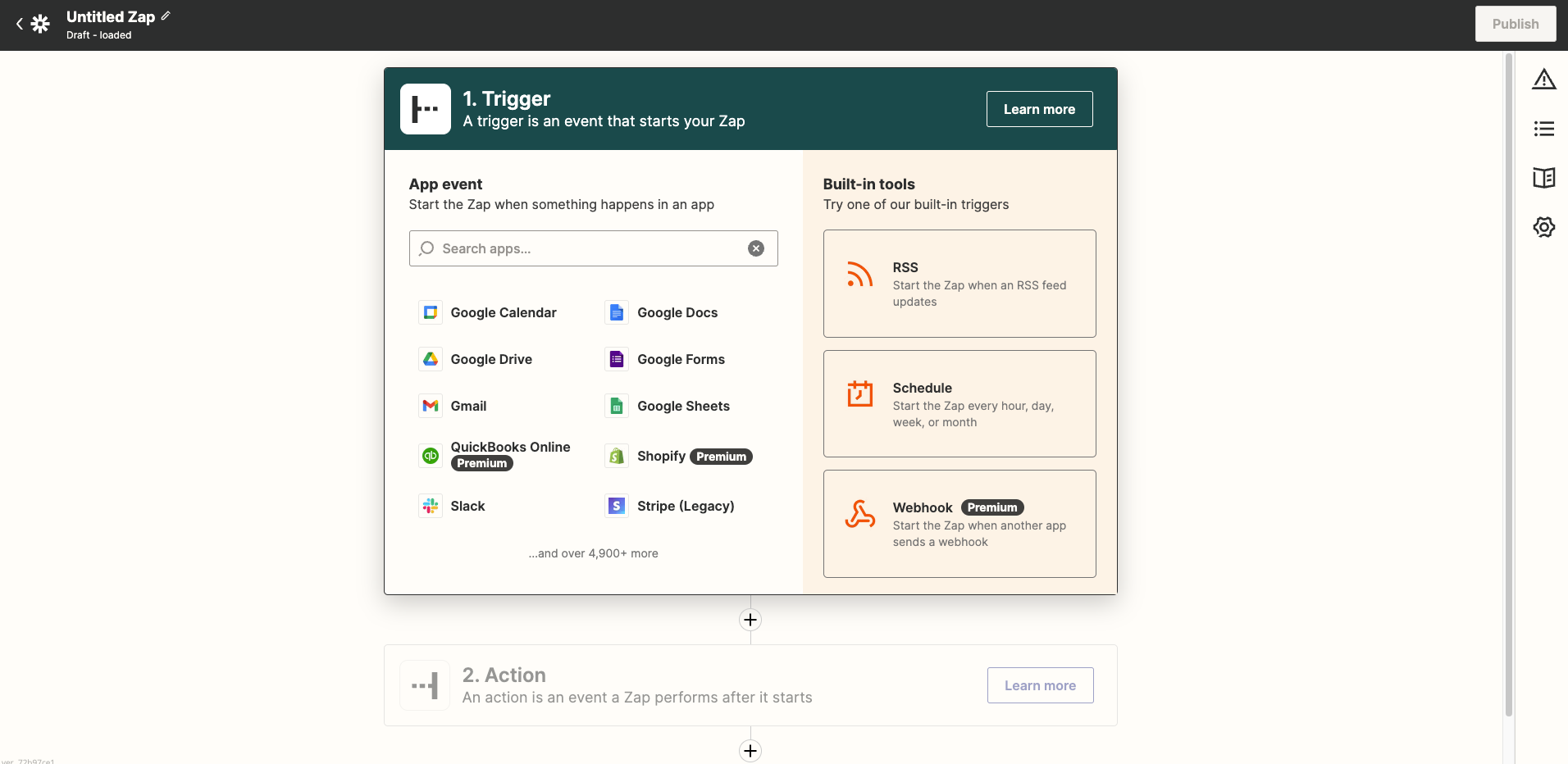 You can choose integrations from the apps tab, and link your accounts to begin creating Zaps. Depending on your plan, you will either have single-step or multi-step Zaps with different action amounts. If you're not familiar with this type of software, you can spend some time creating Zaps and playing around to figure it out. 
Overall, the interface is very easy to use, but if you want to be able to manipulate specific tasks (e.g. move them to a different position or copy and paste them) you might become a little frustrated, because as of May 2022, this is not possible. Everything in the interface very controlled, and linear and users who don't want to use the templates might get frustrated with it. But if you want the process of building a workflow from A to B to D to be super easy, then Zapier is the tool for you!
The aesthetics of Zapier are very basic. It's a no-frills interface that gets straight to the point, and that's by design. If you're looking for a flashy or confusing interface, you won't find it here. The nice thing is that everything is consolidated into one simple dashboard, so you can find everything easily.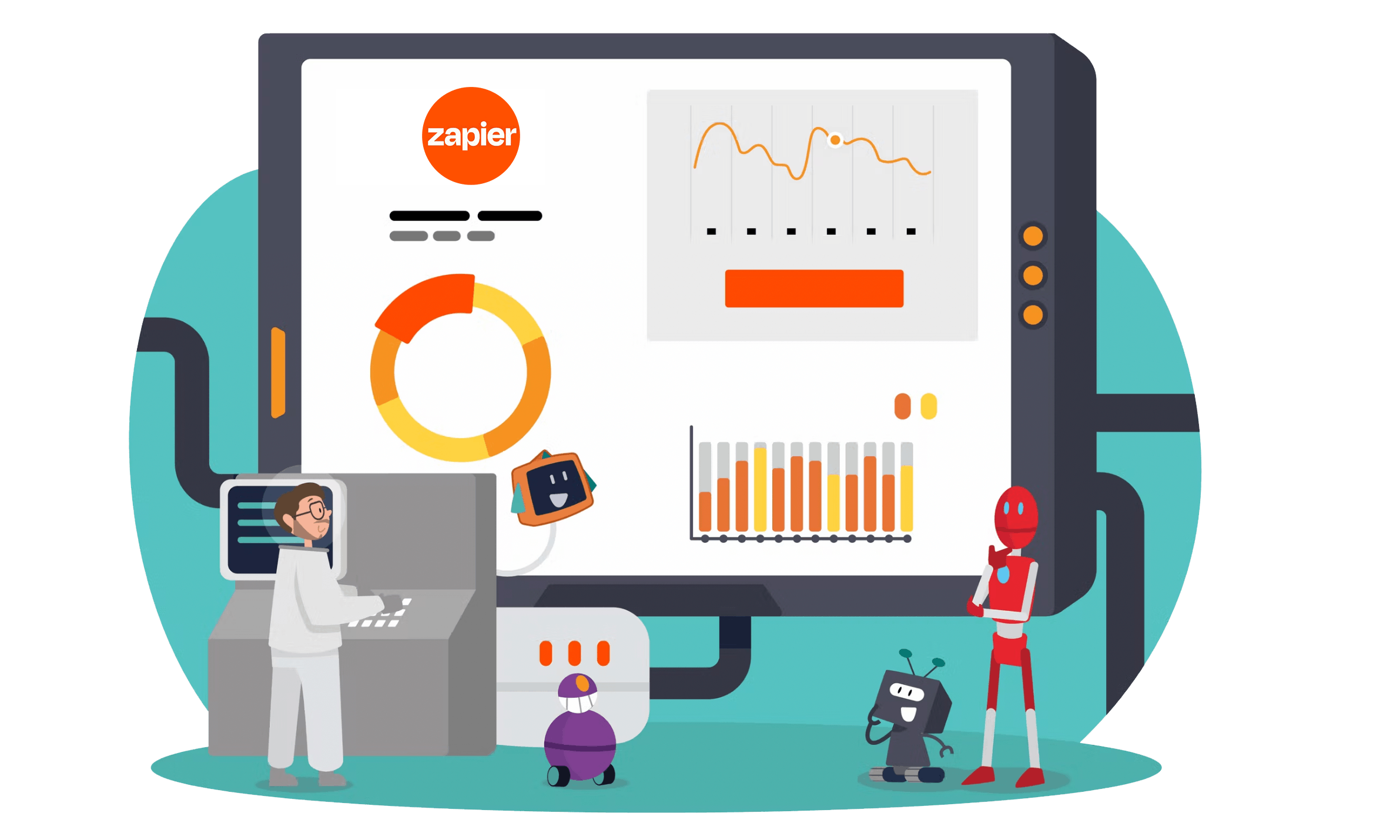 Complexity
When you dive into the different features that each Zapier plan offers, for a no-code software it's pretty complex. There are lots of tools to use, and it's important to utilize training and help features to make sure you know what you're doing.
The software itself has a simple design that is easy to navigate, even for the most inexperienced user. With a database of templates, users don't need to think of their own Zaps if they don't want to. In fact, the library is made up of the most popular choices, so for small businesses looking for simple automation they probably won't have to do much in the way of focused learning, as Zapier makes it easy to dive straight in.
Pros and Cons of Zapier
Having looked at Zapier's functionality, pricing and automation capabilities, it's time to weight up the pros and cons of using Zapier as your Automation tool of choice.
Pros
Easy to use

4,000+ Native Integrations

Ability to Integrate other Apps with Webhooks

Customizable plan options to add more or fewer actions

No-code software for the less tech-savvy

Lots of actions

The ability to share with multiple users on most plans
Cons
There are a lot of beta features that have bugs as of May 2022

The free plan is very bare-bones, so you'll have to pay for most features
Community and Partner Ecosystem
The Zapier website has an active community page where users can find resources and a forum to ask questions. There are several categories that you can browse through, and connect with other users. Topics range from beginner basics to more complex tech topics related to coding. It's a good place to get a feel for the software and problems that could arise before signing up for a plan.
Zapier University is another great tool included in the community area. There are free educational classes that you can take to get a better understanding of automation. One of the courses offered is no-code specific to help those who don't have a lot of technical experience figure out how to use the software for their business. All of this is available for free, and you only need a free Zapier account to use it.
If you're looking to become a partner with Zapier integrations, you'll want to check out Zapier Platform. Here is where you'll find the option to build a Zapier integration into your app. Integration with Zapier means your app will be integrated with everything else in their system. The best part is that it's free to do!
Using the integration platform is free, but Zapier also offers a partnership program. Once your app is integrated into Zapier, you enter the partnership program and it includes a level system. As you level up, there are different benefits, of course. For example, after you've moved up a few levels, Zapier will mention your app in a blog post.  So, if you're an app developer Zapier can be a good place for you to get exposure while integrating your app with thousands of others in popular automation software.
When your app is integrated, it will show up in their massive database of integrations which could help you get new users. There is an active community on the partnership website where you can connect with others and stay up to date, as well.
Final Thoughts
Overall, Zapier is pretty great automation software. It's fantastic for people who don't want to go through learning how to code because you can hop on and create simple Zaps in a few minutes. Zapier has way more native integrations than any other platform so users will most likely find the apps they need.
For developers, Zapier makes it really easy to integrate their apps with the partner platform. It's a great place to get exposure and have people use your product. Signing up for Zapier is completely free, so you can try it at no cost to see if it's right for you.
Why not check out some suggested Zapier integrations, below: