Parabola is an easy-to-use drag and drop automation software. When it comes to platforms like this, Parabola is in the no-code realm but can be complicated to use. It's considered no-code, and low-code software depending on the features you plan to use. Parabola's main focus is eCommerce, and mainly caters to people using Shopify.
The software is designed to assist people who aren't well versed in tech with road blocks that can happen with data management. Not everyone is an Excel spreadsheet mastermind, or can read complicated consumer data. So, that's where Parabola comes in. It has all sorts of customizable features to filter your data, and create automation workflows.
As you scale your business, it's easy to get bogged down with tedious tasks that could be easily accomplished with automation software. Not only will it save you time and energy, but you could save on having to hire someone to do this for you, as well. Using software like Parabola can also be helpful if you have a hard time managing data.
Parabola
's Mission Statement
Parabola's mission states that "everyone has an amazingly analytical, curious, and creative capability yearning to be expressed." This mission is on their career page, but is also applied to what they do as a company.
They want everyone to have access to the power of programming even if they don't know how to code, which is a pretty great message. Through their team, Parabola wants to ensure that all people are able to get organized using technology tools even if they aren't web developers.
Before being blinded by words like 'easy to use,"  and "data management" it's important to figure out if Parabola is right for you. The software has a lot of incredible features, but it could be confusing to use if you don't know your way around. Let's dive into Parabola.
Parabola is described as drag and drop software that's designed to make your life as a business owner easier. One of the biggest draws to Parabola is the fact that you can not only upload your data from integrations, but filter it even further once it's in the program.
Ideally, you should be able to set up an account with Parabola, upload data and create a workflow within minutes. The software is aiming to give you a comprehensive platform that can mange all of your data in one spot and keep you organized.
Parabola is typically used for:
Sales Reporting

Marketing Reporting

Customer Management

Inventory Management
The features in Parabola are useful for those working in eCommerce. That is because it not only will automate emails, newsletters and things like that, but it can help you automate data without code and spreadsheets. The drag and drop features can create a more palatable visual for people who might not be too good with numbers.
Automations in Parabola are referred to as flows, as they look like a flow chart. The simple design is easy for people to understand, and each step in the flow accomplishes a different task. Users can also manipulate Parabola flows the same way they can move around arrows on a flowchart in other programs.
Setting up in Parabola is easy, but it's highly recommended that you watch tutorial videos and read the instructions for use. Unlike some of the other drag and drop platforms where a couple clicks can lead you in the right direction, Parabola is confusing at first.
The complicated nature could cause delays in use for users who aren't experienced with this type of platform. That could cause frustration, and make it easy to forget this software altogether. With time and patience, however, Parabola is a useful platform if you have a lot of data from multiple sources and use Shopify.
Integrations
Since Parabola is heavily focused on Shopify, their native integrations are ones that work well with that platform. Currently there are around 50 Parabola, with the option to use Webhooks. The top three native integrations on Parabola are:
Essentially, if you aren't using Shopify you might not find a lot to work with on Parabola. It is, however, integrated with other automation software and apps such as:
You can find the Complete list here: https://parabola.io/integrations
The native integrations in Parabola allow you to pull and send data to the tools that you use. It's extremely helpful with automation. 
Shopify
If we're talking about Parabola, we need to take some time to talk about Shopify. Parabola's website boasts that they are the most powerful Shopify automation tool. For Shopify users, Parabola can be a great platform for teams to collaborate on and have access to data all in one place.
Typically, you would do in and manually add your data to spreadsheets when you're running an eCommerce site. Automation has really changed the game in this department, and Parabola strives to do this with their main focus being on Shopify users. Being able to have all of your data reports and management in one spot can increase efficiency and cause less headaches when you're looking for something.
Parabola specifically has features for Shopify in their paid plans, including being able to transfer data in and out of the program right into Parabola. If there is one thing Parabola does well, it's make things easy for the Shopify community.
 Pricing
Parabola's pricing is a little confusing. They have monthly plans, as well as a credit system where you can earn credits for flows when you refer friends to the platform. All they need to do is use your referral link. Parabola also offers you an option to contact their sales team to discuss plans if you don't see something that suits your needs.
The base plan for Parabola is free, but as with any free plan there are limitations. For example, the Shopify benefits don't kick in until you are on a paid plan. You can also try any paid plan for free for 14 days to see if it's a good fit.
Basic
The basic plan is free to use and is great if you want to test the waters and see if you like 

Parabola

. You get access to their community forums, but no Shopify data transfer perks.
Plus
If you like 

Parabola

, and want to use it for Shopify anf with your team, the first paid option is a good place to start. You get plenty of features to try. Two users can be added to this plan.
Advanced
The advanced plan is recommended for enterprises and users experiencing plenty of business growth. This plan unlocks all of 

Parabola

's features and Shopfiy data transfers.
Enterprise Features
Parabola is a good product for enterprises that utilize Shopify. The native integrations make it easy to transfer data to and from the Shopify platform with the Advanced plant that is geared towards enterprises. So, if your enterprise is eCommerce based then this platform should have plenty of features for you.
Parabola's features include sales reporting, marketing reporting and customer management that can cater to enterprises, as well. There are also inventory management capabilities so you can keep track of your stock, customers and other data that can be uploaded into the system. The thing about Parabola is that is isn't just for simple automation to send things OUT of the program, you can use it for internal organization.
If you're not a big tech person, Parabola's software can be quite confusing. It doesn't hold your hand the way most other automation software will. When you open up Parabola, you're met with a blank canvas and instructions to help you get started. There will be examples for a simple workflow, but it's definitely best to watch their instructional videos to see what you're getting into.
When you open Parabola, you're met with a blank canvas to create your workflow. Automations in this software are referred to as flows. In other automation software, you'll usually get templates to pick and choose from when you open the program up. Parabola does have suggestions for templates, but they're called recipes and live on a website page you can find here.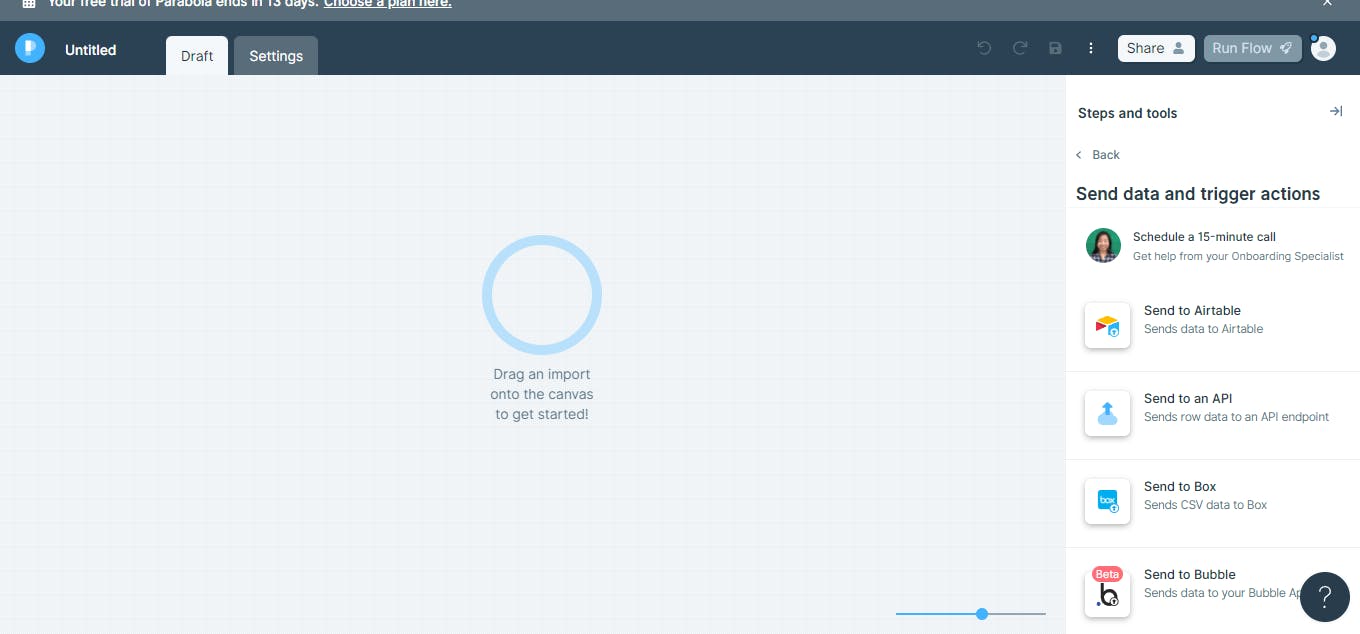 Building a Flow in 

Parabola
When you open Parabola, it's a blank canvas that can be daunting if you don't know what you're doing. The home page will have recommended recipes for you to choose from if you'd like. As we mentioned earlier, flows are what Parabola calls automation. Flows are made up of steps and arrows that connect them. The steps are meant to give or receive data. So, once you're all logged in, it's time to set up a flow.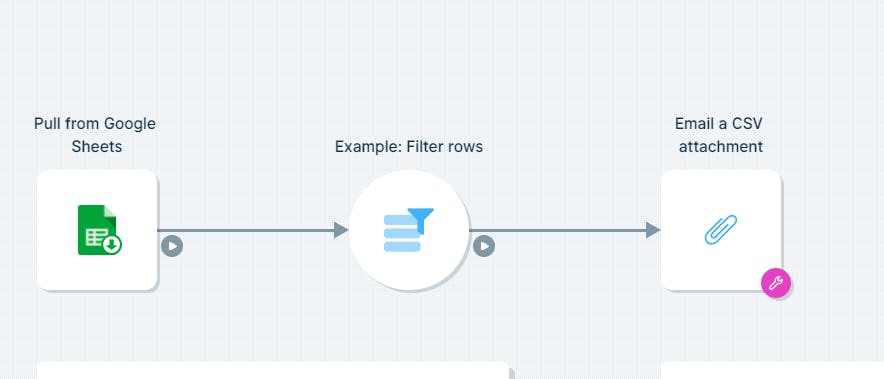 This is an example of what a flow looks like in Parabola. You can drag your data and actions onto the canvas, and move the arrows around just like you're making a flow chart. It's kind of tricky, but once you get the hand of it, they're easy to move around and connect.
Flows are what will create automation to complete all of those tedious tasks you're sick of doing. The first thing you'll want to do is create a process. One of the nice features of Parabola is that the canvas works as if you were working on something on a physical board. You can create notes for yourself or teammates to pop on the canvas that outlines your process.
Before you create a flow, you have to import your data. Parabola makes this really easy. If you're using Google Sheets, you can connect and add your data within minutes. Parabola puts it into a table format where you can further filter the data for your flow.
Once the data is in Parabola, it will be listed on the right-hand side and you can drag it onto your canvas to start building your flow. After you've got the data and tasks set up in your flow, you can further manipulate the triggers for your data.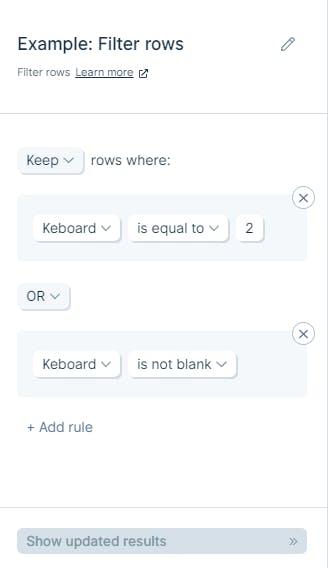 For example, if you are using a Google Sheet, you can filter what rows and column's it's looking at for even more customized triggers. The workflow is very customizable but can be difficult to navigate if you're not familiar with sifting through data. Users also need to complete several steps to create a flow, as opposed to other automation software that sets it up for you.
Parabola is good for people who are very visual since everything is done in a workflow on a blank canvas. Overall, the interface can be useful as long as you know what you're doing. If you don't see any recipes you like, you can check out the website for other ideas 
The flows in Parabola can help you eliminate errors that can happen when a person is typing in endless amounts of data. It's also designed to work internally, so you don't need to do anything outside of Parabola. Integrating all of your data into Parabola can be a great way to consolidate and save you time.
Overall, the platform's interface does a fine job at what it's trying to achieve. It's not for everyone, since it will take some training to get used to.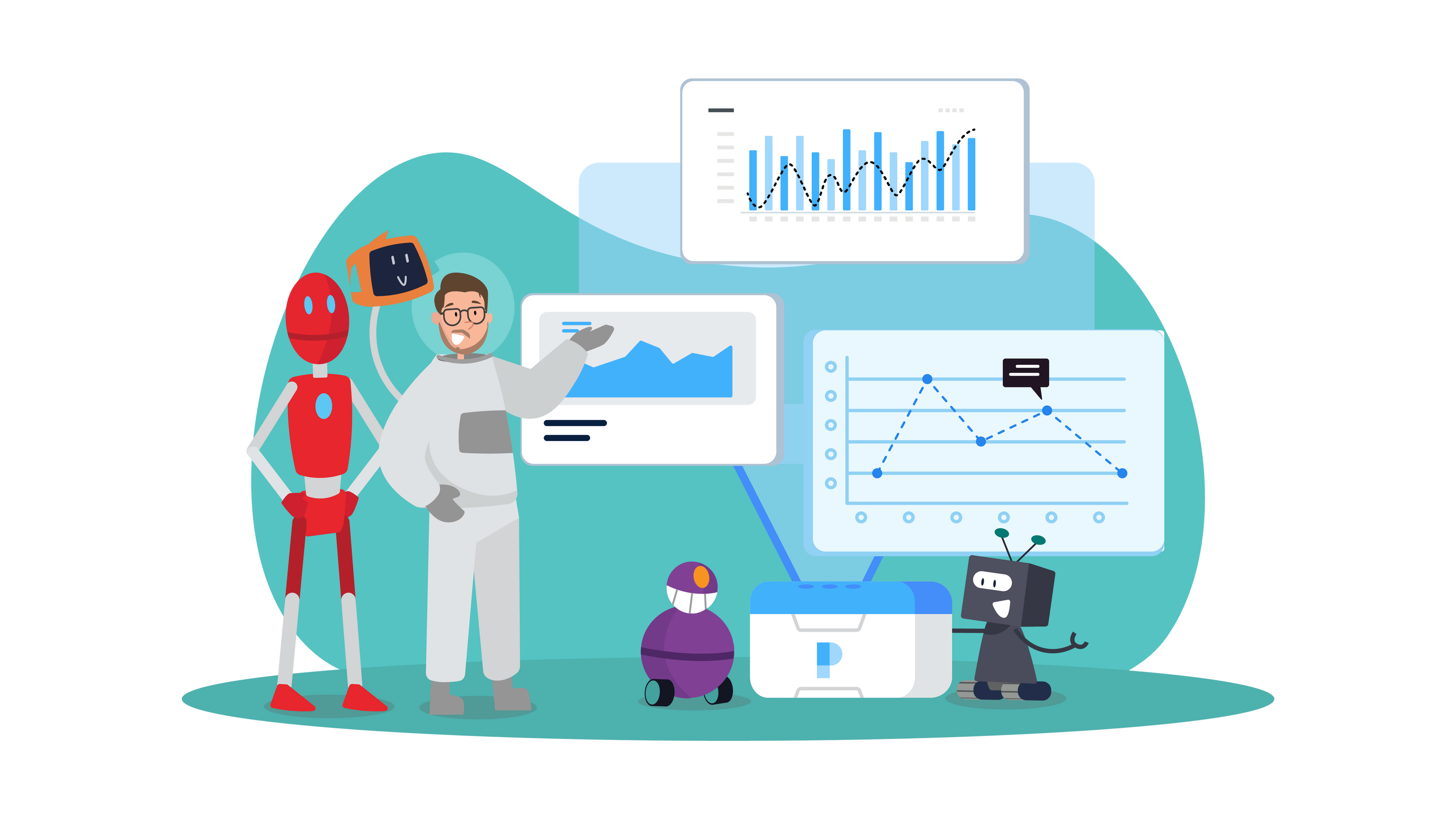 Complexity
There are a lot of things you can do inside of Parabola which make it very complex. There are several ways to automate your data, and store it inside of the software. Automations, or flows, are customizable and you can manipulate the data from inside the program. Data can also be used in multiple steps.
For example, you pull data from Shopify, filter it down inside Parabola, send it back to Shopify, and trigger an email to be sent all in one workflow. That's pretty complex and impressive.
Pros & Cons
As with any software, there are pros and cons to using Parabola. No software is going to be perfect for everyone, which is why there are so many!
Pros
Users can create very complex and customized flows and manipulate data

It can help you sort through imported data

Can create integrations with webhooks

It's got more features and actions than most no-code software
Cons
It's complicated with a bit of a learning curve

Limitations if you want to code

Not many native integrations

Very specific to Shopify
Community and Partner Ecosystem
When you sign up for the free plan of Parabola, you will get access to their online community page. Here you'll find a forum with other users asking and answering questions about Parabola. This is pretty standard for any software, and Parabola's community is no different.  
Parabola also has an active blog and podcast, where you can keep up on new features, and other helpful information. The blog will also give you an inside look into users that have had success with Parabola, too.
As for their partner ecosystem, Parabola has a contact form listed on their website to inquire about partnership here. They do emphasize being a Shopify expert here, and partnerships don't appear to be just for app developers. Since they have such a limited amount of native integrations, there doesn't seem to be a place where developers can easily integrate their applications with Parabola.
Final Thoughts on Parabola
To sum it up, Parabola is a great software in theory. The idea of creating flow charts to manage data and automations is simple enough, but executing it can be quite complicated. To use Parabola, you'll need training or initial know-how for software even though it's designed to be no-code.
Working in Parabola can give you powerful tools for data management and setting up customizable actions. It's important to keep in mind that the native integrations are focused on Shopify, so if you arent using that platform it might be best to look elsewhere. This software also might not be for you if you aren't dealing with eCommerce, as most of the functions are catered to that realm.
Give Parabola a shot with their free version if you're interested. You may find that you like their tools. Again, it's all about preference with it comes to automation software.