N8N is an open-source platform that lets you connect apps to each other. It can be used on your own server or in the cloud.
What is 
N8N
?
N8N is a free fair-code automation tool that can be self-hosted or used in the cloud. It's an iPaaS platform that can be used to integrate apps with other apps to carry out tasks that you simply don't have time to do.
The platform began as a brainchild of Jan Oberhauser in Berlin, Germany. After trying several automation software platforms, Oberhauser decided he wanted to make one to fit his specific needs. N8N has only been on the scene since 2019, so it's very new in terms of automation tools.
This software is set apart from the others because it's an open-source product. That means you can take the code and change things up yourself if you have the expertise to do so. N8N works similarly to tools like Zapier and Make (formerly Integromat). The difference is that you're limited to the cloud-based versions of these tools. N8N gives you the ability to run the automation tool on your own server, for free.  
With that being said, there are two main ways to use this software - The no-code approach and the low-code approach. Before we get into N8N, let's differentiate between the two types of software.
What is Fair-code?
If you don't work in the realm of software, you may not be familiar with the term 'Fair-code.". N8N is a fair-code software, and it's important to understand what that means. Fair-code isn't a software license, but it is a way to describe software that is free to use.
This means that fair-code software like N8N has its source code available online, usually on the developer's website. The code is free to use, and you can manipulate it however you'd like. So, you can use their software and add your own functions and apps to it. N8N is available as fair-code software so you can self-host on your own server, or there is also a cloud-based version to use, as well.
What Does 
N8N
 Mean?
What kind of name is N8N, and how do you pronounce it? Well, in an interview Oberhauser said that he gets this question quite often. As you can imagine, when choosing a name for a free domain, most of them are going to be taken at this point. So, Oberhauser didn't have a lot to work with. After much thought, the name he settled on was 'nodemation.' Node because, well, that's the main part of the software and 'mation' for automation.
The name was too long for him, so he simplified it down to N8N and now here we are. If you were wondering, it's pronounced "n-eight-n."
N8N's Mission Statement
N8N's mission statement is "To give everyone with a computer technical superpowers!", and it's clear that they practice what they preach.
N8N believe that software should be free and sustainable, open and pragmatic. This creates a great collaborative community that users can be active in and share ideas, instead of blindly using software which is pretty cool.
How Does 
N8N
 Work?
How N8N works depends on which version you have. Essentially, it works by taking data from integrations and processing workflows you've created to carry out automation tasks. If you are self-hosting the automation software, you will probably have your own functions and apps and your own way of using the program. It works by connecting apps together by API. Let's look at how N8N works when you use the cloud-based or desktop version.
Cloud-Based 

N8N
When you used the cloud-based version of N8N, you are using it on the company's server. Keep in mind that the cloud version is NOT free. There are over 200 apps that can be connected to this version. When using this in the cloud, you can switch between no-code and low-code functions, depending on your preference. The problem with a lot of automation software is that you're very limited in terms of what you can do to your triggers. N8N allows for a lot more customization. There are some terms you should know to get familiar with N8N.
Nodes
N8N uses nodes, which are the building blocks of workflows in N8N. Nodes are used for gathering, processing, or exporting data. They can be used to filter or change data once it's in N8N, as well. Workflows can be created with multiple nodes and you can create complex workflows that do exactly what you want them to.
Connections
Connections are what you'll use to connect your nodes. They work how arrows would in a workflow chart, and you can move them around on the screen to connect different nodes and direct them to complete tasks.
Trigger Nodes
Trigger nodes are the tools needed for automation in N8N. These nodes are what kick off the tasks that you want to have carried out. If you have an automation set up to send a Slack message out when you get an email, the trigger node will activate and carry out the task. You can also create triggers within N8N that will alert you when there's an error and they aren't working properly.
Workflows
Workflows are how you'll view the automation you've created. You'll use drag and drop features to create a flow that will give you a visual of the tasks you want to be done. You'll have separate workflows for all of your automation, but you can have multiple carried out in one workflow from the same application. More on that later.
Integrations
Since N8N allows you to use it as a low-code tool, you'll be able to add your own integrations yourself. There are, however, plenty of native integrations to choose from. Currently, N8N has around 200+ native integrations. Users can connect to these apps to move and transfer data into N8N to create workflows.
Pricing
While the open-source version of N8N is free to use on your own server if you plan to use the cloud-based version you will have to purchase a plan. The free trial period is 30 days, which gives you plenty of time to get a feel of if you like the program or not.
Keep in mind that companies change plans and prices sometimes, but this is the current listing for N8N.cloud.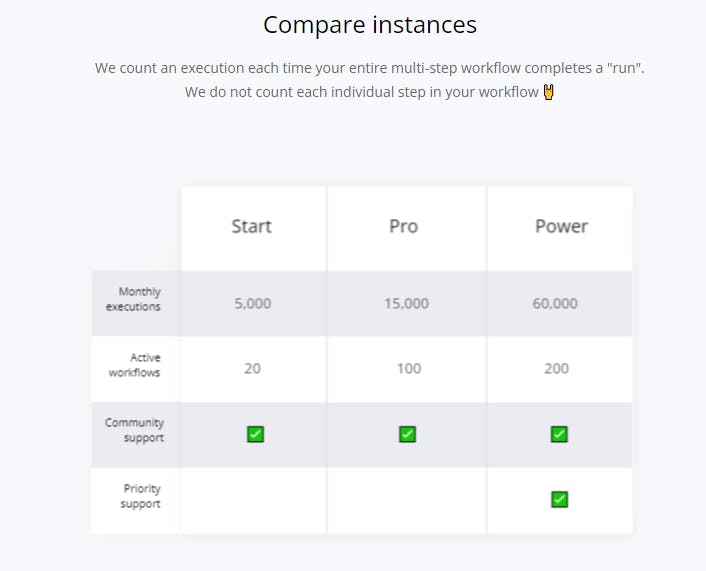 Unlike other automation software with complex breakdowns of their plans, N8N keeps things simple. Three plans with simple explanations of what you get with each one. The important thing to look at is the number of executions you get with each plan.
According to their website, execution is counted any time your multi-step workflow completed a run. It doesn't mean every single step is execution. You get a certain amount of executions per month with each plan.
If you aren't keen on paying for N8N, you can try your skills with the open-source option because it is completely free. You also have way more control over the code with that option than you do in the cloud-based plan.
N8N also offers a free desktop version, and it works similarly to the cloud-based one. You just have to download it to your computer instead of using it in a browser.
Enterprise Features
The thing about N8N is that there isn't going to be a lot of extra features just because you can pay more. It's meant to be accessible to everyone, and customizable for your own needs. If you do have a developer on your team, they can take the open-source code and manipulate it to your specific needs. In-house applications can also be integrated into the software to make it custom to your business. Keep in mind, however, that N8N does have the commercial right to its code.
N8N can be a valuable tool to an enterprise looking for a data management and automation tool for their business. You can scale it to what you need it to be, and only have to pay if you use the cloud-based version. There are no user limitations or blocks on certain applications.
The native integration list on their website also gives you access to the triggers and nodes that can be used with each app. You can browse the full library here, or below.
N8N's Interface
Now, let's dive into N8N's interface. When you go into the cloud-based version, you are greeted with a white blank canvas with buttons on each side. It's on this screen that you'll be able to create your workflows.
You'll drag nodes to the canvas to create your flow, and you can go in and manipulate the code to create triggers. When you load up N8N, you start on the Dashboard.
Dashboard
On the N8N dashboard, you will start by opening your Instance. Th8is will take you to your workspace where you can start creating workflows. There are no bells and whistles on this interface, it's strictly business.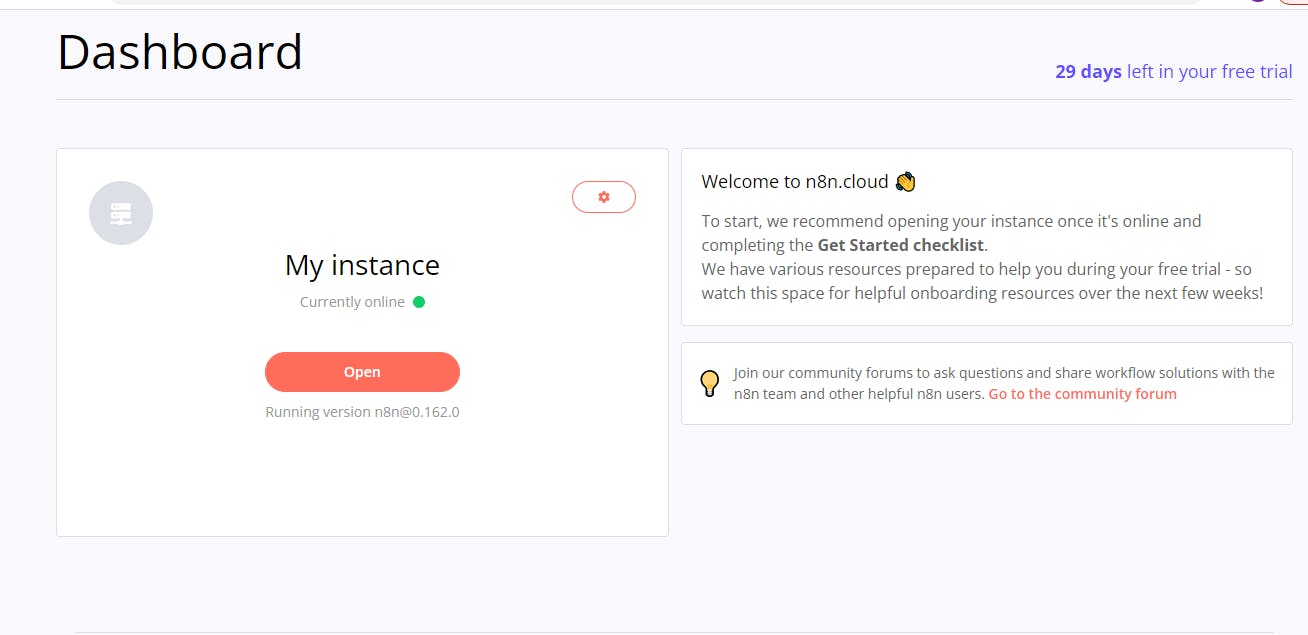 Once you've entered the workspace, you can start creating workflows. It works like creating a flow chart in a publishing program. You drag and drop your data and triggers into the space, and simply connect them with arrows.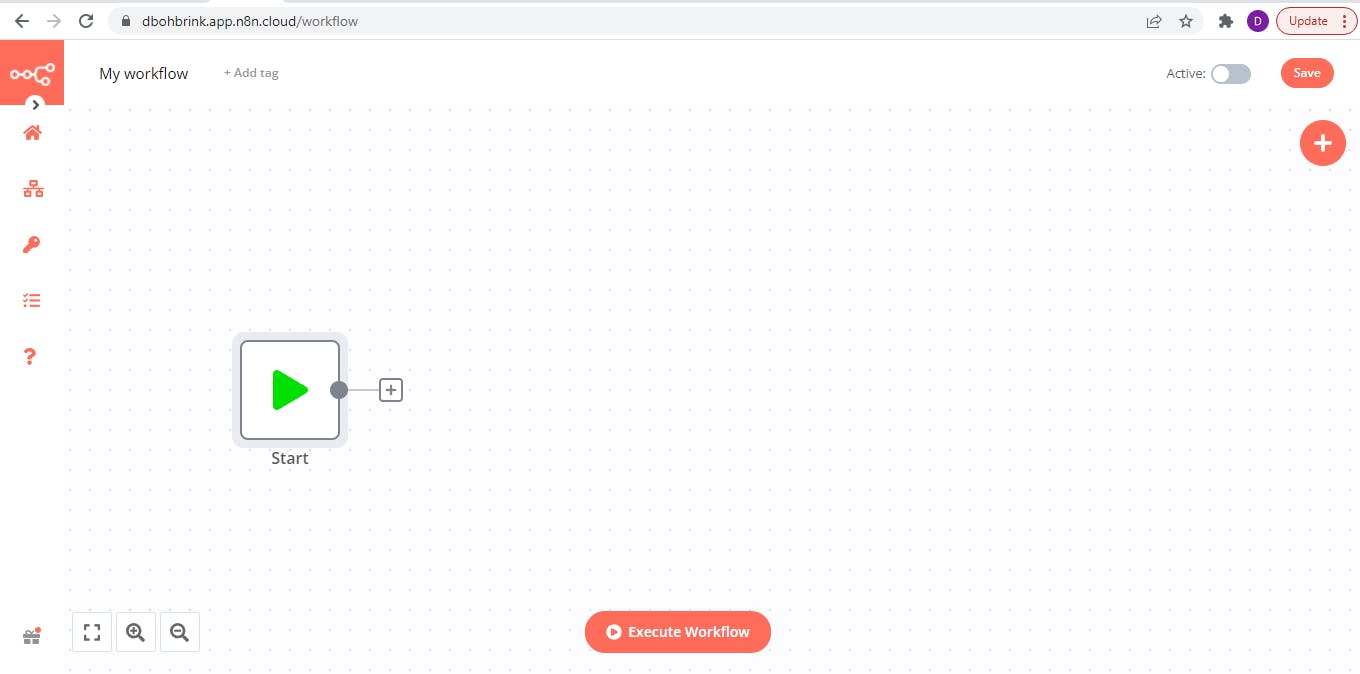 Even though this is a cloud-based software that can be operated as no-code when you click on nodes you will be given the javascript. That way, you can perform low-code functions if you wish. You can toggle between the parameters and settings tabs to switch to no-code. In the settings, you'll be able to manipulate the trigger without having to use any code.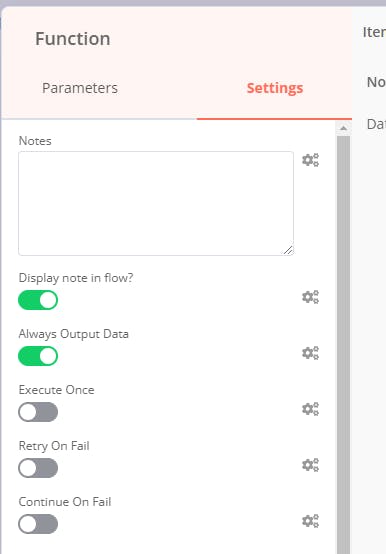 From here, you can create your workflow. You'll want to make sure you take your time getting to know this interface. N8N assumes that you know what you're doing, and there is not a lot of guidance within this automation software.
If you go to their website, there are numerous overviews and instructional videos available to you for free to get a better understanding of the software.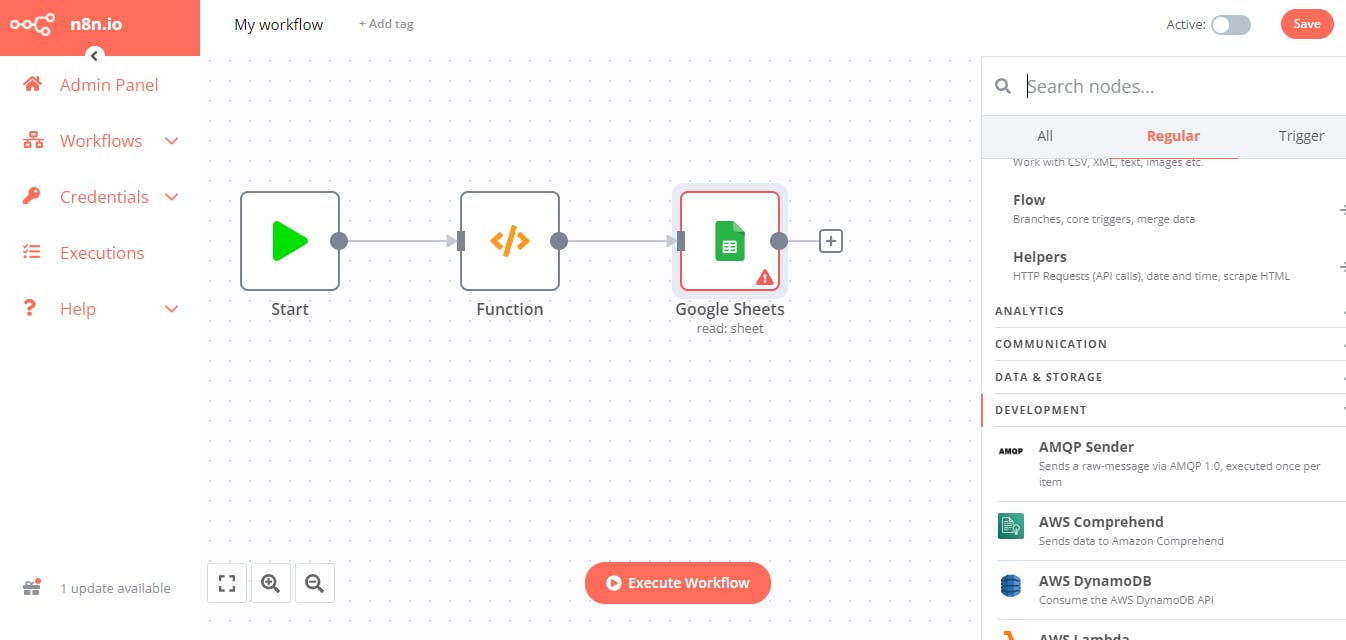 This software is similar to Parabola in terms of the blank canvas workspace. On the left and right sides, you'll have tabs that you can click on to access different features. The right side is where you will find your nodes, triggers, and access data you've linked with native integrations.
It can be intimidating to use software like this if you don't know how to code. This software is definitely not going to be for a novice unless you plan to take a crash course in coding to get a better understanding of it.
If N8N is software you want to use, but don't have the experience, perhaps it might be a good idea to hire a professional to help you get everything up and running. Someone with a tech background can create workflows for you, and explain how to use them so you can continue to operate the program as a no-code automation platform.
Once you set up your workflows, you can set them on schedules, or enter the program to run them manually. The customizability of the interface makes it great for somebody who is very particular and needs things manipulated down to every little detail. The cloud-based version of N8N is relatively new compared to the open-source version.
Aesthetics
As far as aesthetics go, you aren't getting any bells and whistles with N8N. The design is extremely simple, and you can't do much to change how it looks in the cloud-based version. If you're using the self-hosted version, you can do much more to change this if it's something you want to do.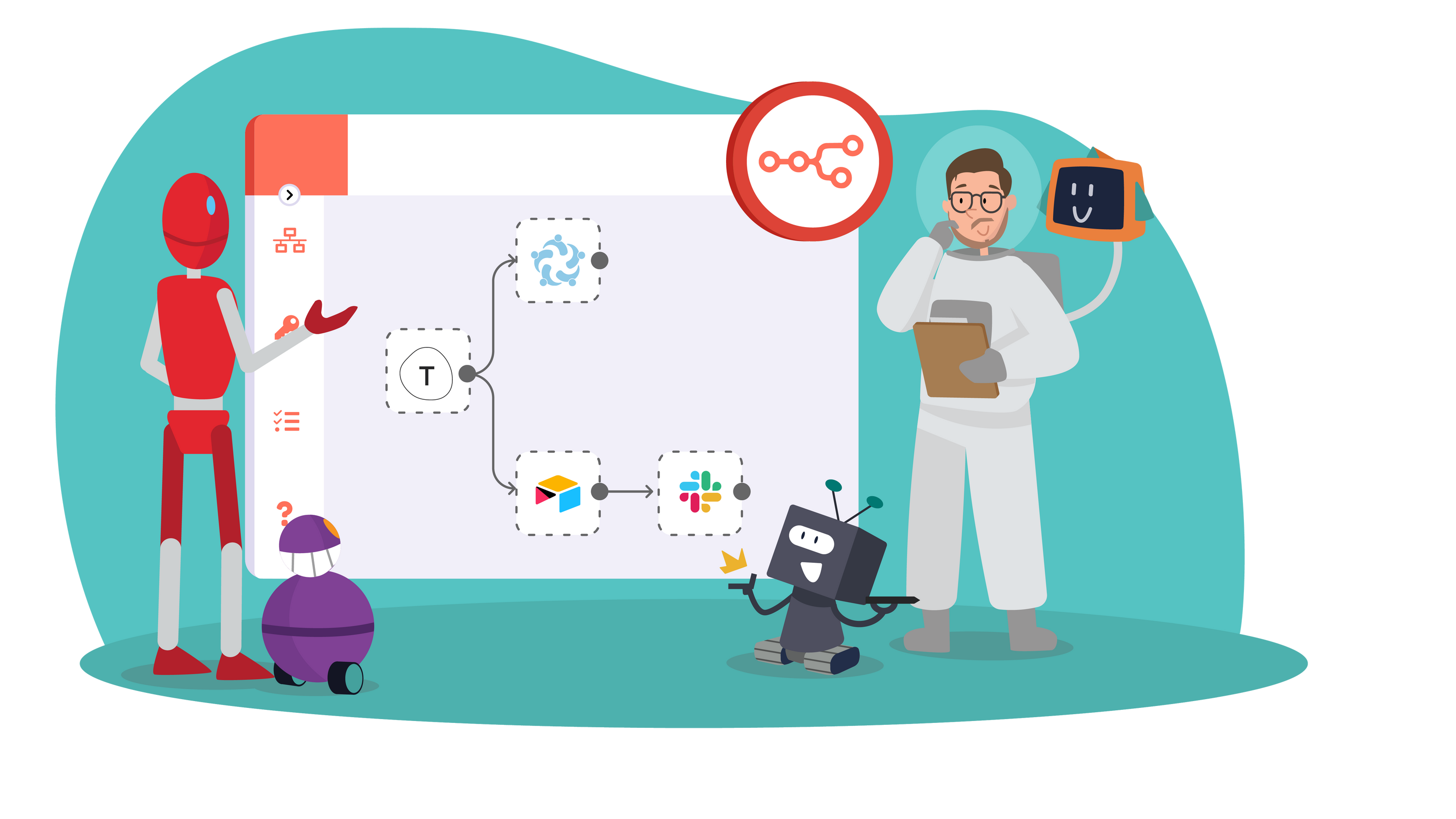 Complexity
Compared to other no-code automation tools, N8N is very complex. A novice user might want to skip this one if they don't have someone who can help them with basic Javascript. While you can still use it, you can't get as much out of it without knowing a little bit of code.
The interface itself doesn't look complex, but you need to know what you're looking for to navigate around. Creating workflows is simple once you have your data and know-how to set up the triggers, which can take some training to do. This automation tool is probably not for someone who doesn't pick up on software intuitively unless you're planning to hire someone to use it for you.
One thing to point out that N8N does well is that within a workflow you can customize triggers to do multiple actions all in one place. So, if you can grasp the technical complexities of this automation tool, it can do a lot for you.
Pros & Cons
Having examined N8N's features, pricing, and automation options in detail, we can now weigh the pros and cons of making the switch to N8N. Friend of Saastronomical, Andrew Davison wrote a fantastic article summarising the pros and cons of N8N which you can see here.
Pros
Can be used completely free with an open source version - No matter your use case, the fair-code licence that N8N provides enables you to run N8N completely free of charge.

Easy to manipulate with low-code - Make your own nodes to integrate third-party services or in-house technologies, and use those nodes in your own projects. Discover how to do it with the help of our community, documentation, and tutorials.

Visual tools make it easy to see your workflow - Move beyond the limitations of ETL by beginning with straightforward routines that require no coding and quickly extending them with javaScript functions, conditional logic, or custom HTTP queries.
Cons
If you are not familiar with coding, using N8N may be difficult for you.

When using N8N, there is a distinct learning curve. For users who want an easier on-ramp to getting started with them, their cloud version is the way to go. The installation process may be a little unsettling for the ordinary user, but it is well worth it.
Community and Partner Ecosystem
Being open-source software, N8N has an extremely active community. You can find their community forum page here, where you can get troubleshooting tips and announcements from the team. They will even post here when they're hiring, so if you are looking for a job in tech maybe you could check that out, as well. 😉
There is also an active blog page, Discord group, and a place where you can contribute to the cause, contribute include creating workflows, contributing to the code, or writing a bog post for them. There is an extensive list of explanations of what and how you can get involved with this project.
The N8N community also has an area where you can connect with an expert to help you use this automation tool. You can find it N8N.io experts here.
Final Thoughts on N8N
Overall, N8N is an efficient automation tool. While it is said to be no-code, users who really don't know how to code will probably run into problems. They'll probably need to hire someone to get things up and running if they want to use N8N as efficiently as possible.
The open-source version allows you to run the software on your own server and is completely free. If you know how to code, you can use the open-source version you can build in your own integrations and customize it to fit your needs exactly.
The cloud-based version works just as well, and it still operates as a low-code tool. You can also opt to use the cloud-based version with no code, but you may run into problems if you don't have a simple understanding of something like Javascript.
To sum it up, giving N8N a whirl isn't going to hurt anything. It's a powerful tool, and you can get involved in an interesting community with fair-code software. If you need very specific tasks done, an automation tool like N8N is a great tool to customize yourself with code.