Make (formerly Integromat)
From tasks and workflows to apps and systems, build and automate anything in one powerful visual platform. Make allows you to visually create, build, and automate workflows that are limited only by your imagination. Anyone can use Make to design powerful workflows without relying on developer tools.
What is Make?
Make is the current evolution of Integromat. Integromat referred to themselves as 'the glue of the internet,' and with good reason. Make, or formerly Integromat is the cream of the crop when it comes to automation software. This is the new flagship brand of the company, and it's taking everything great about Integromat and making it even better.
Integromat has long been a staple in the internet community for automation purposes. At this point, it's almost impossible to run a business without some type of automation. Everyone is conducting business online with eCommerce, and no one has the time to sit there and constantly be managing their data. Tools like Make are there to help you complete tedious tasks like shooting off emails and tracking customer data in spreadsheets. It's wild how much software can do for you, and you won't even need to hire a real-life assistant.
Make is a software tool that helps users automate manual processes and manage their data without having to learn to code. This is especially beneficial for businesses that don't have the budget for a tech team. Make is considered no-code automation software which means that you don't need to be a web developer in order to use it. In fact, Make intends to go beyond no-code integration and making it as user friendly as possible.
Make is not only an automation platform, but a place to build ecommerce apps, custom CRMs to automating entire end to end business processes. The goal is that people from all backgrounds and expertise can use the platform with ease. Make wants to be accessible to everyone from the freelancer to the big guys at Fortune 500 companies.
The idea is that Make users aren't users, they're "Makers", hence the new name. So, from integromat which was certainly one of the best automation platforms on the market, we now have Make. Let's get into it, and understand what Make is.
Make's Mission Statement
Make's mission is to empower people to visually create, build and automate at the speed of their ideas. The platform is more than just integration and automation. They state on their website that Make realized their users are not users, they're Makers. The no-code functionality of Make allows the 'Makers' of all experience backgrounds to build, automat and create.
Their mission means they're creating a visual language that Makes the process of building this type of software accessible to everybody. It's all in the name. Make is easy to say, type, and read. Nothing that Make is doing is meant to gate keep from those who aren't involved in the tech universe. This type of programming should be available to everybody, regardless of skill-level.
They also Make tools available to those who want to learn even further. With the switch over to Make, users are encouraged to keep learning and using the software at any level they're at.
How Does 
Make
 Work?
Simply put, Make works by creating an interface that can be used without any coding. Since Make doesn't require users to use code, it utilizes software API, which means application program interface. An API is what software providers give to the developers so that they can access the data inside the applications. Instead of needing code, Make turns APIs into simple image blocks that can be connected with a simple drag and drop tool.
So, once the API's are turned into a simpler format for users, or Makers, to use they can be moved around and manipulated to create automation. Make will run automatically after you set it up, so you have time and energy to do other things while Make does your tedious tasks for you.With Make, you will have live-stream access to all of your automations
Automation software works in a simple way. If one thing happens, then another thing does. Of course, it can get much more complex than that but the simple version is a good place for those who don't have much experience to start with.
To use Make, you need to understand a few terms that are used within the software.
Module
Modules are where you will create your automations inside of Make. The most common modules are action modules, which will Make up scenarios.  
Trigger
Triggers are where you begin in Make. This is how you define the condition that must be met in order to carry our you automation. A simple trigger could be when you receive an email, or create a new row in Google Sheets.
Actions
An action is the most common type of module that you'll find inside of Make. Typically, they will be a single action bundle that moves into the different modules for processing. They can be placed almost anywhere in the scenario.
Scenario
A scenario is what Make calls an automation. When you start using Make, you'll be building scenarios to begin your workflow.
Integrations
With Make, you can connect pretty much anything to the software. Currently, Make has around 1000 native integrations and they have all of the big names such as Google Suite, Slack, Facebook, Discord, and so on. You can browse the database of native integrations Make.com here, or use our Application Finder to help you find the right kind of app for your business needs. They are separated into categories by type of business, so it's easy to find what you're looking for.
While Make has only around 1000 integrations, they do it incredibly well. You can do so much with the integrations, and it all works pretty seamlessly.
If there are integrations you're looking for, don't worry, Make will let you connect to any app you need to. The best part is, you don't even need to be a developer in order to use it. Make's no-code tool kit is designed for any users to be able to connect any HTTP app or an app with an API with no coding experience necessary.
Pricing
Make's mission is to cater to all types of businesses from tiny ones starting off in a basement all the way up to Fortune 500 enterprises. So, that means they have a very expansive list of pricing options and plans. There's even a free version to get you started. Here are the current plans as of May 2022:
As with any automation software, plan prices are subject to change. To get enterprise options, you'll need to contact the sales team. As you can see, for being such a top tier software platform, the prices are still reasonable. You can check out the details of the plans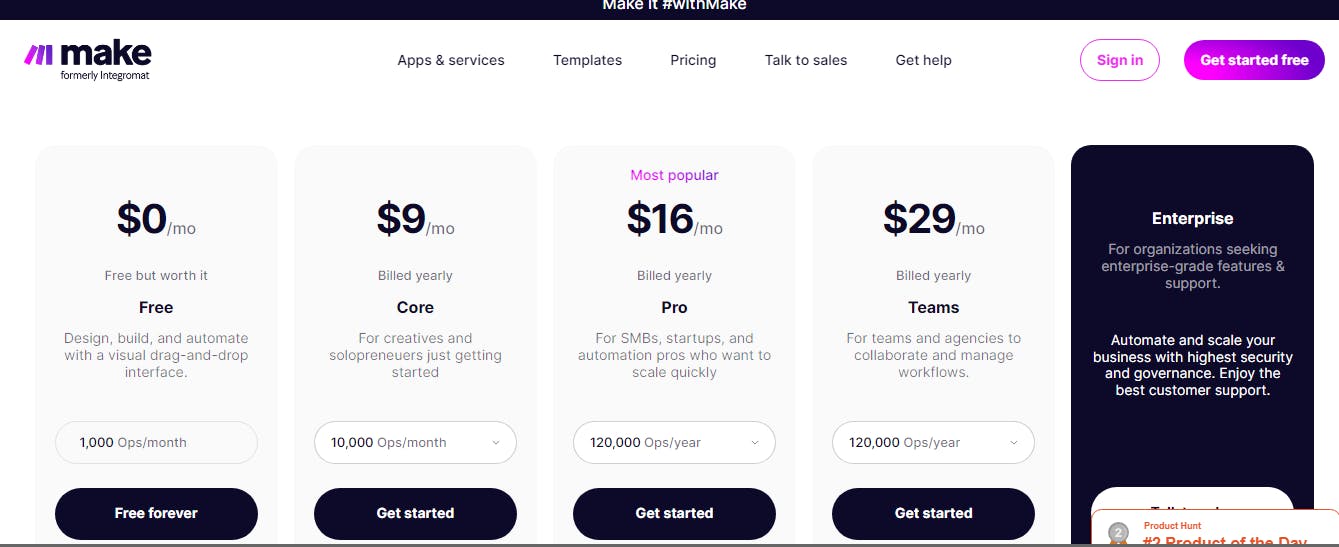 Free Plan
With Make's generous free plan, you can start using the service immediately! Before you buy the software, you can build and test your scenarios. When you're just getting started with automation, Make's Free tier is an excellent place to start.
No-code workflow builder

1000+ apps

Custom apps

Unlimited users

Two-factor authentication

Parallel scenario execution

Real-time execution monitoring
Enterprise Features
With Make's enterprise plan you get the benefit of Access to enterprise apps, security compliance support and customer support. You also get access to company single sign-on (SSO) access control, Operations overage protection and Two-factor authentication.
Enterprise
The last plan, which is aimed at medium-large businesses, allows you to completely experience everything Make has to offer, providing you with the following features in addition to everything you get on the lower tiers:
Access to enterprise apps

Information security compliance support (ISO 27001, SOC 2)

Company single sign-on (SSO) access control

Operations overage protection

Two-factor authentication

Dedicated customer success manager

Customer support with high priority
Overview of
Make
's Interface
If you are a current Integromat user, you'll be able to upgrade your account to Make very easily. If you're just starting out and want to try Make, you can create a free account within minutes to try it out. All you'll need to do is verify your email and you can get to creating simple automation and managing your data. If you are starting a new Make account, you'll be  greeted with this screen.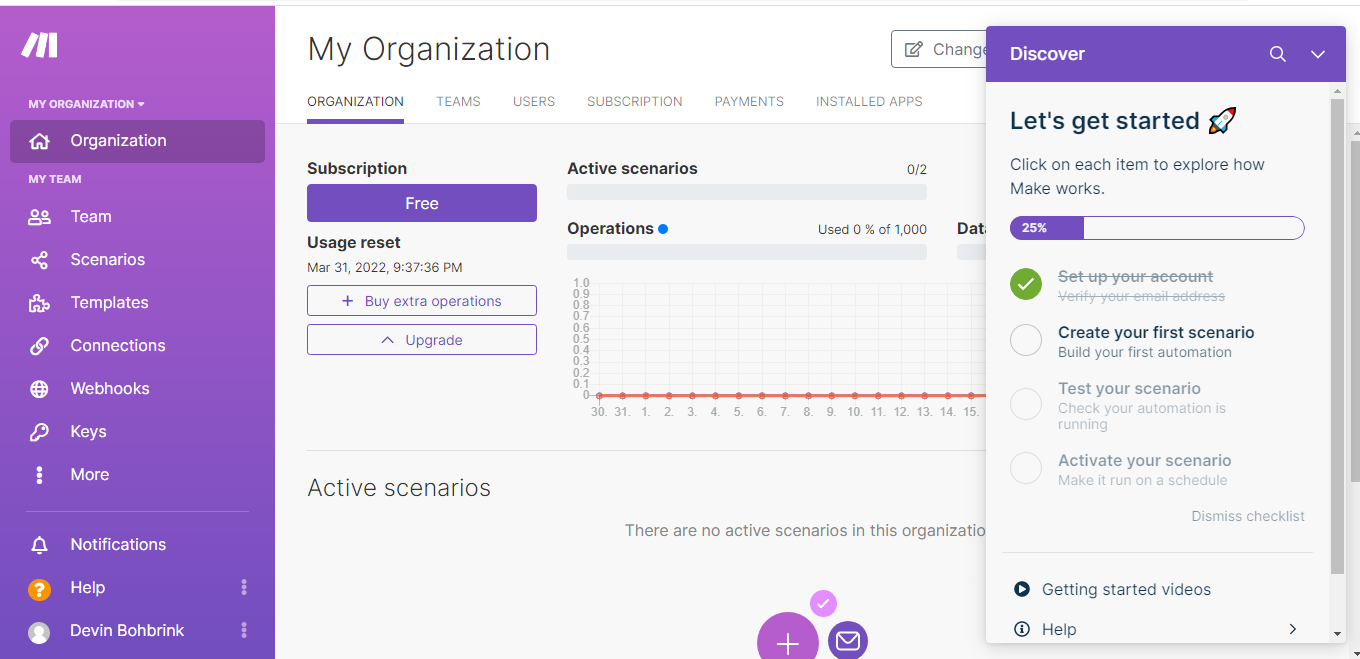 Make wil take you through an introductory process to Make sure you know how to get around within the platform. Then you'll begin to create your first scenario, which is an automation.
The My Organization page is where you can keep track of all your active scenarios. Depending on what plan you have, you'll be able to see how much of each feature you have left. For example, you can see in the image above that with the free plan you can have two active scenarios at a time. To create a scenario, you'll simply click create a scenario at the top right corner of the Organization page.
Creating a scenario in Make is very simple. When it's time to begin, you can't miss the gigantic purple plus sign in the middle of the screen.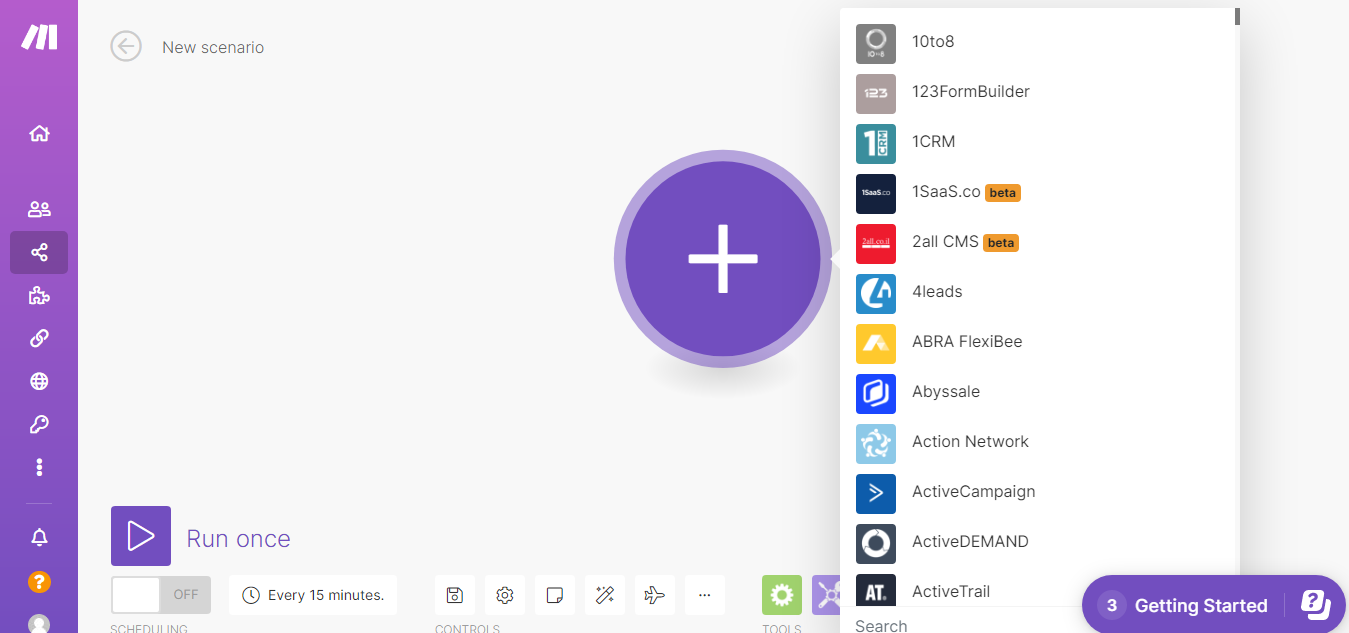 It's super simple to use, and you'll be able to type in the name of the integration you'd like to use. If you haven't connected your integrations yet, no problem. You can do it right from this screen.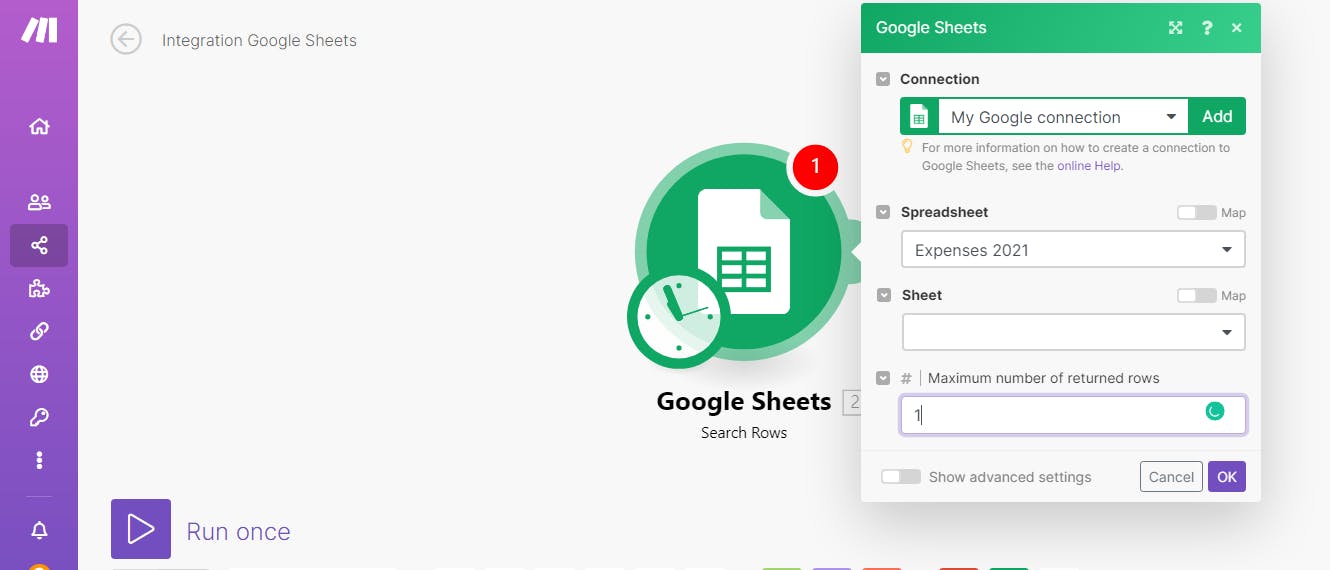 As you connect your integrations, you're well on your way to creating a scenario. It only takes a few seconds to connect to your data, and you can begin picking and choosing what you want in your scenario.
If you want to start creating more, you can connect more integrations, and use routers for multiple events. You can play around with it to see what you want to do and get a feel for the software.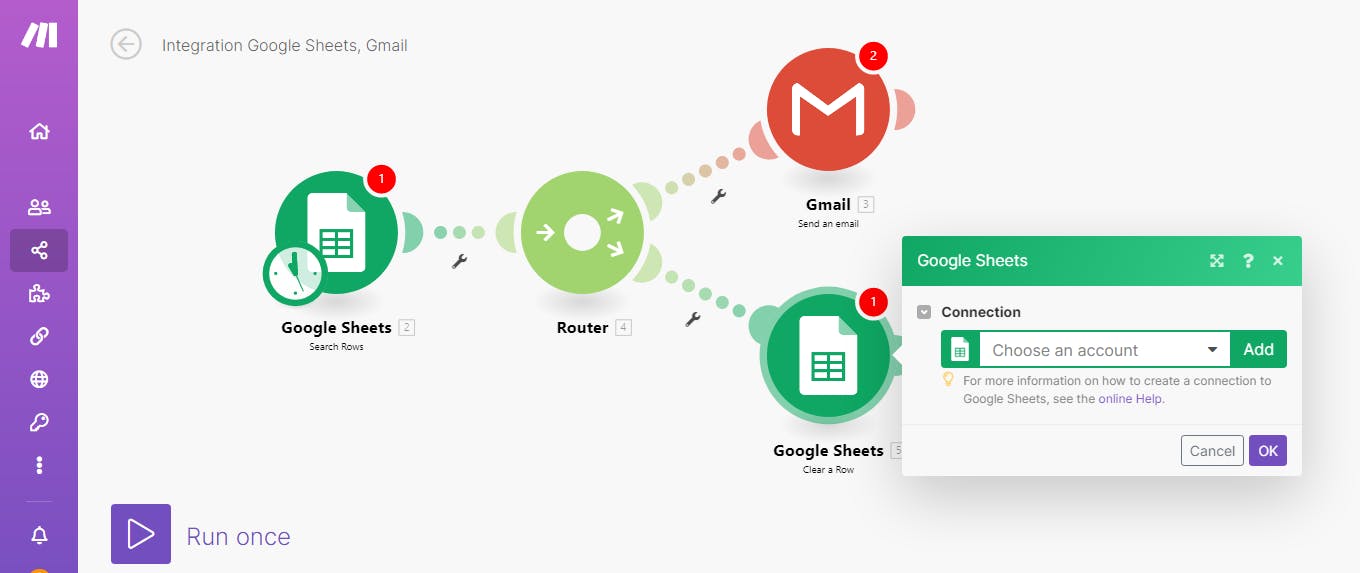 If creating your own scenarios seems like too much work, or you simply don't have the time, Make also has plenty of templates to choose from. When you go to the template tab, you can browse through pre-built scenarios for native integrations.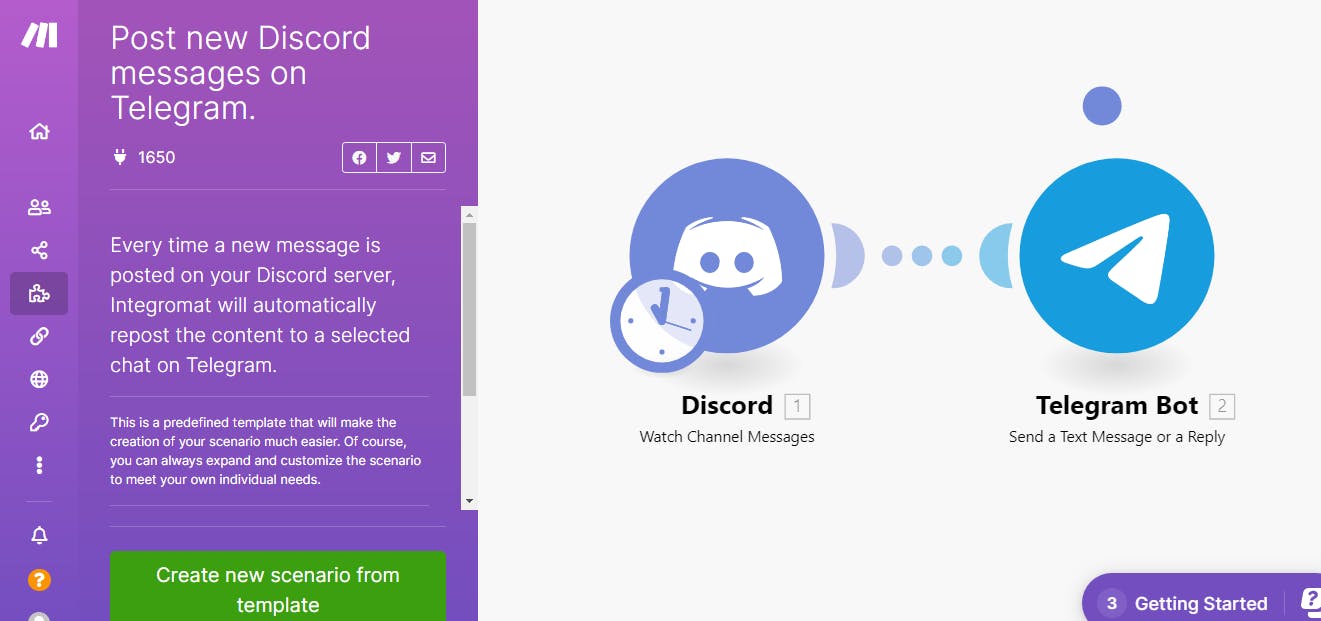 Make does a great job of explaining how the scenario will work, so users of all experience levels can use them with ease.
Other parts of the interface include the Webhooks tab, where you can create integrations for apps that aren't native to Make. There's also a connections tab where you can keep track of accounts and integrations into the system.
When you start adding team members, you can use the My Team page to manage your data as well. Make gives you a lot of tools even in the free version that go far beyond just making simple automation scenarios.
Along with the main tabs, you can track your data and view data structures the more you dive into the platform. Overall, it's a very easy to use interface, and you should be able to create simple automations within a few minutes of signing up for the free version.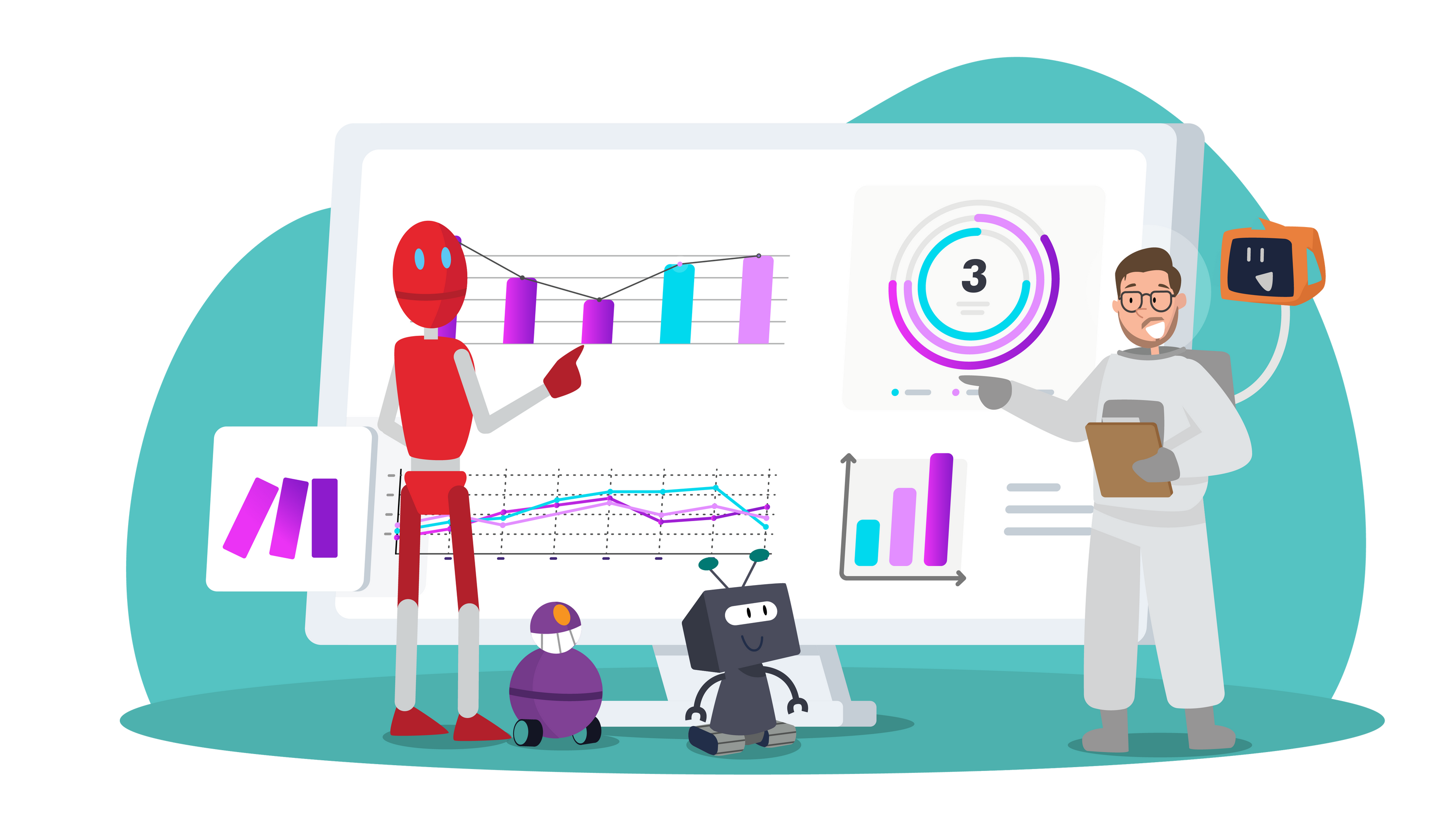 Complexity
Make is complex and simple at the same time. Users are greeted with a very pleasant interface that has a lot going on, but everyone is spelled out for you. All tasks have a place, and even if you might not know how to do something at first, if you click around long enough you will probably figure it out. It's a very intuitive software for learners of all levels.
As far as creating automations, you can create simple scenarios, or Make them as complex as you'd like. The router option allows you to direct one integration to several different ones with different triggers. There is so much you can do inside of the software to Make your life easier.
Aesthetics
Unlike some other automation software platforms, Make loves using color. Everything is bright and bubbly, which Makes for a pleasant experience. It's hard to be stressed when you're looking at lovely bubbles on a screen that are going to do your work for you.
It has a modern look to it, and with the rebrand to Make, the colors have changed to include purples and other colors, which give the platform a fresh look.
Pros & Cons of Make
Having looked at Make's functionality, pricing and automation capabilities, it's time to weight up the pros and cons of using Make as your Automation tool of choice.
Pros
Make is evolved from Integromat which is one of the top-rated integration softwares on the market, so it's going to have some pros. The interface is very user-friendly, and being no-code doesn't create limitations to adding outside integrations into the system. They Make it easy for those who aren't developers to create additions to their app listings without writing a single line of code. It's pretty incredible.
There are several plans at various price points making it accessible to everyone. There are high-level enterprise options along with lower end options for the smaller business on a budget. Those plans do not lack in features, and you can still use the tools to create automations easily.
The drag and drop feature Makes it super easy to pick up how to use this software within minutes. There are guides, buti t's also intuitive and everything is laid out for you in an accessible format.
Cons
The tutorials built into the interface are quick, and can be a little confusing. For example, when you are being taught to Make your first scenario it cuts off after you add an integration. You'll need to search for videos if you need extra assistance in learning how to use the tool.
The versions with lower price points have some limitations unless you want to upgrade.
Community and Partner Ecosystem
The Make community page is active with posts in the forum and gives you the ability to connect with other users. There are several different conversation spaces to choose from depending on what you want to learn, or if you simply want to connect. Another space is there for you to share hacks you've learned and what you can do with Make. It's a pretty solid community system. Within the community page, there's also a marketplace where you can hire a professional to help you with automation if you need it.
As for the partner ecosystem, Make lists a partner directory and a partnership program. Currently, Make has 722 network partners across 76 countries. Through the partner directory, you can browse the partner ecosystem. This is where you ca see all of their current partners, and view their profiles to learn what they're all about.
Final Thoughts on
Make
To sum it up, Make is an incredible automation software platform. With the recent rebrand, they've added even more features to Make it better. Make is a great place for someone with zero tech background to get started with automation.
Make strives to ensure that automation accessible to everyone, no matter their budget and skill levels when it comes to software. You can set up a free account within minutes to check it out and see if it's something you're interested in using. If you find yourself overwhelmed with it, you can always hire a professional to help you get organized and teach you how to manage your data.
There are plenty of tools online to help you if you are feeling confused about using software like this. The best thing you can do is try it for yourself and get your feet wet. There's probably a lot more that a software like Make can do for you than you realize.
Make is one of the best automation tools on the market, and it's worth trying. As your business grows, you can upgrade your plan to grow with you. With a free version available, what do you have to lose?