Parabola
Integrately is automation software designed to create workflows with just one click. With over 200k integrations built-in, users can find their apps and create easy integrations within minutes.
What is Integrately?
There are plenty of automation software options on the market, but the problem is that many of them are too complex for novice users. Integrately is an integration software company that was founded in 2015 with headquarters in India. Their main focus is the ease of use of automation software with one-click options that don't take much brainpower. Ideally, Integrately should be doing all of the work for you.
Currently, there are around 40k users of this software around the world, and it's relatively user-friendly. This software does, however, have limitations compared to its larger competitors due to a smaller native integration library.
The biggest draw to Integrately is the promise of one-click automation with over 8million+ pre-built ideas in the software. All users should have to do is connect their apps, and begin clicking on automation templates to get down to business.
At this point integration software is essential when running a business, and Integrately is striving to make that as easy as possible, but are they doing a good job? Let's jump into how Integrately works and what it can do as far as automation is concerned.
Integrately's Mission Statement
Integrately's mission statement focuses on its one-click model. Simplifying automation down to one step is appealing to anybody looking to save time. The entire motto of Integrately is simplicity.
How Does Integrately Work?
Integrately is trying to draw in the crowd of people who don't have tech experience with their one-click automation feature. Ideally, you should be able to set up automation without using much mental energy. If you aren't familiar with integration software, there will no doubt be a learning curve and it will take some time to figure it out.
So, the concept that Integrately has come up with will allow users to create automation, connect apps, and transfer data within seconds and only a few clicks. Integrately comes with 250k+ pre-made integrations that are ready to go for over 600 native integration applications. Since it's no-code software, there shouldn't be any roadblocks for users who aren't experienced in tech.
It allows businesses to connect their suite of software tools together and create one stream of actions. Integrately uses similar terms to more popular automation software for the basic functions.
Automation
Automations are the automated workflows that will carry out all of those tedious tasks you no longer have time for. For example, you can set up simple automation to send you a message in slack when an email is sent to your Gmail account.
Triggers
Triggers are the actions used in automation. So, when you set up an automation to send you a slack message, the trigger is when the email is received.
Tasks
Tasks are the individual actions that automation completes for you. When you sign up for a paid plan with Integrately, each price tier will give you a certain allotment of tasks.
One of the biggest deciding factors in whether or not to use a company for automation is whether or not they have the applications you need in their native integrations. If the software is not integrated with what you need, then what would be the point of using it?
Integrations
The Integrately website states that there are currently over 650+ native integrations. So, hopefully, you can find what you need. There's no option to build in other applications at the moment.
Popular Native Integrations:
As with all integration software, Integrately has premium apps that you can unlock depending on the type of plan you choose. Integrately does have webhooks, so you may be able to connect outside apps but since all of their automation is created for the apps they have it might not be helpful if you want to use the one-click features.
If you are using Integrately, and hit a roadblock due to a lacking in native integrations, you can also request new integrations. They may get enough of a response to work to add the application you are looking for.
Pricing
As far as price is concerned, Integrately is pretty cheap to start, but plans can add up quickly. There is a free plan user can try to see if they want to use it. The base plan moves up to $19.99, and the highest plan is currently running around $299 a month.
The free plan will give you access to 5 automations to get you started. If you're a sole proprietor or a small business, it should suffice. Compared to other companies like Zapier, the software is relatively affordable. If you're using the free plan, you can increase the number of tasks you have by having friends sign up with your referral code, too.
Enterprise Features
As we mentioned before, Integrately is limited when it comes to native integrations, with no option for third-party. This is not great for enterprises that may have on-premise tools that need to be integrated.
The highest tier plan is their business plan, which does have as many features as possible, but still could be limiting as you continue to grow. So, Integrately is probably not ideal for an enterprise.
Integrately's Interface
Integrately's one-click automation promises should mean a simple-to-use interface. The first thing you'll need to do when you're ready to start using Integrately is to, well, integrate your apps so you can import data. Before setting up the program, be sure to map out what kind of tasks you want to have Integrately complete for you.
Setting up the free version of Integrately will only take about a minute. Once you've entered your information, you're greeted with a simple dashboard. Here you will choose the apps you'd like to connect and start automation in a few clicks. Ideally, this should suffice for a small business or freelancer's needs.

Once you choose your applications, you'll be directed to the next step below, which is to choose your automation. Automations are the automated workflows inside of Integrately. Since this is no-code software, everything is broken down step-by-step for ease of use. This is one of the selling points that Integrately focuses on because a place that non-tech users can get stuck on is actually connecting the apps.
With Integrately, it just takes a few clicks. Some software makes you go into the application and do a few things in order for the integration to work, which can be frustrating and make people give up on the software. Integrately wants to eliminate this headache.
So, once you find your application such as Google Sheets, you click a few buttons and it will connect so you can start using the data. Again, there will be limitations to what you can do due to the simplicity of the platform.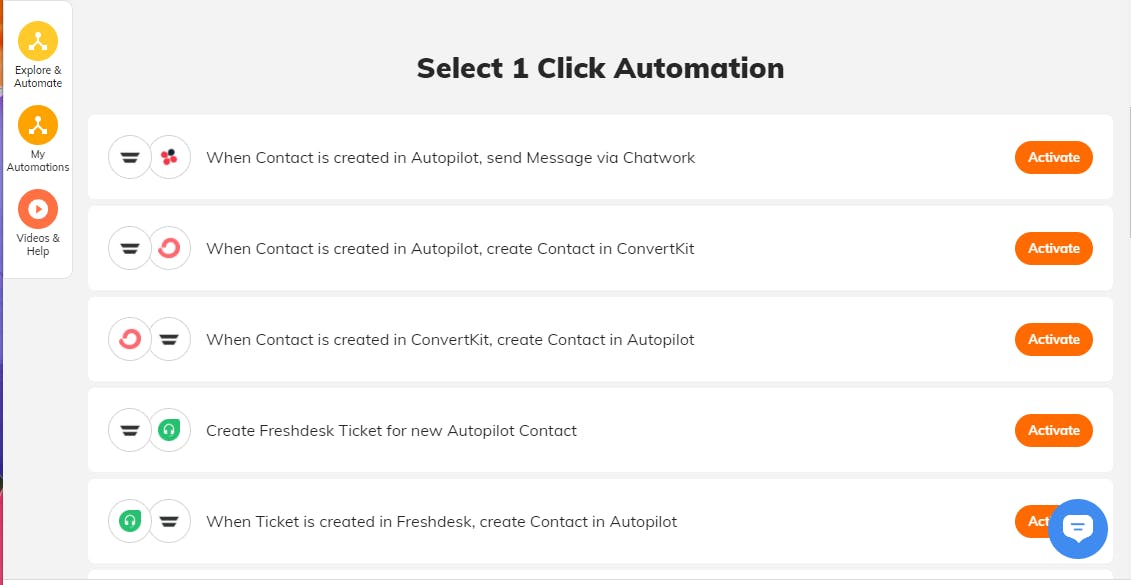 After you choose integrations, the software will populate different automation workflows that are tailored to your choices. If you can't find what you're looking for, Integrately breaks it down even further and gives you the option to create your own. For example, if you are trying to do something a bit more complex, or uncommon, it will give you this option.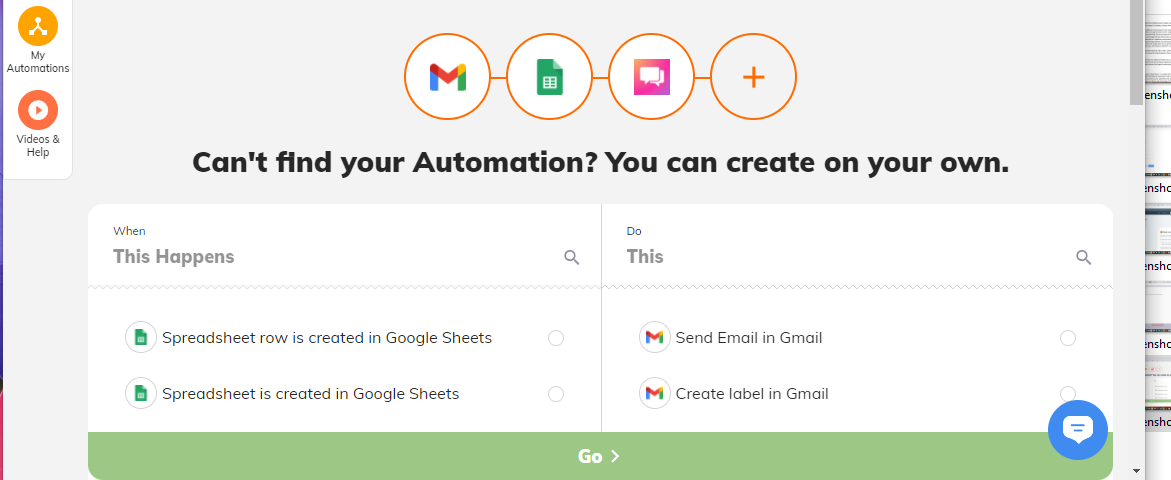 In this example, we chose Gmail, Google Sheets, and SMS. Integrately didn't have anything premade for this since it's a little strange, so it gives you ideas to create your own while still holding your hand. After you choose your actions, Integrately creates your automation as long as your applications are connected.
Once you connect your applications with your credentials, Integrately has a wizard that pops up to help you select the exact data you want to use. After the automation is created, you'll be able to go in and customize it further from the simple "if this happens, then do this," model.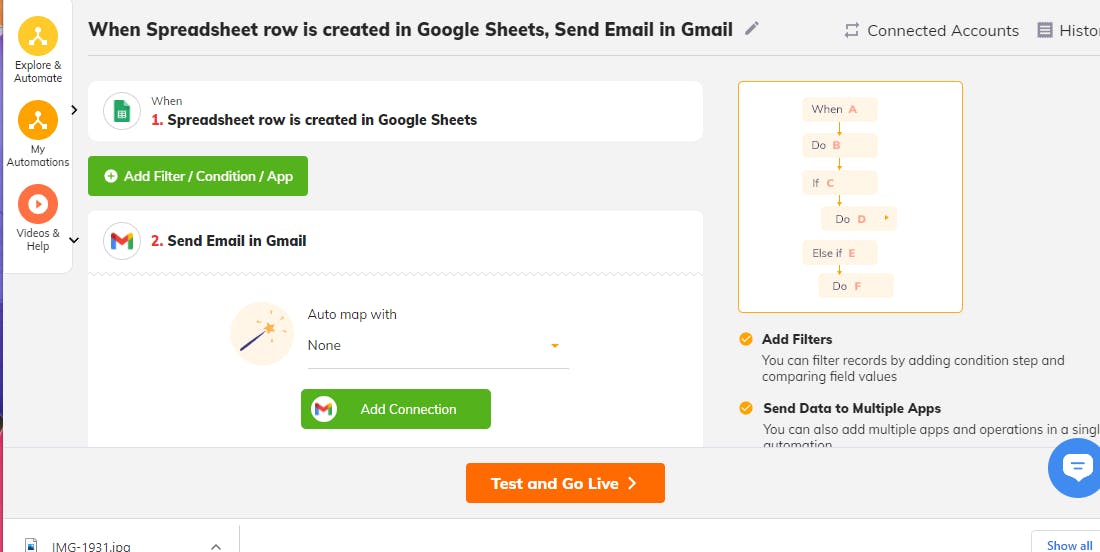 While you can do some customization, Integrately doesn't let you manipulate as much as a low-code software. This will cause limitations for people who have the experience to do so. Once you have your automation running, you can go in to start and stop them whenever you'd like.
The software's one-click model makes it simple to use but again could create a lot of limitations for an advanced user even with filters. You cannot create very complex integrations with this type of software.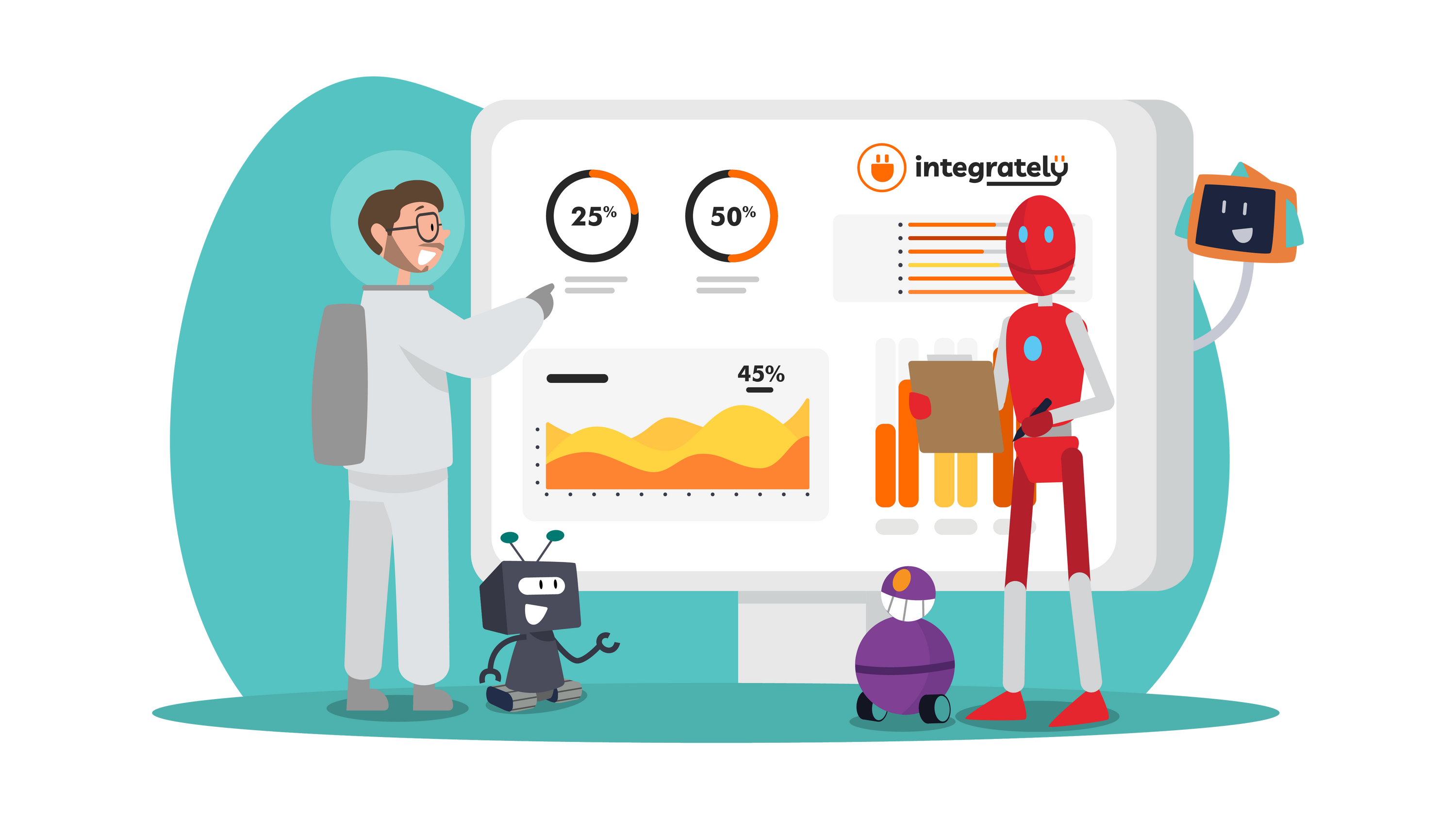 Complexity
Integrately is designed to be simple, so it's lacking in complexity. Yes, you can go in and manipulate automation to do a more complex task, but the no-code aspect is limited. It is intentionally simple and meant for people who do not want to dive into the world of coding.
Pros & Cons
Pros
One of the biggest pros when using Integrately for most users is that it's strictly no-code. Modifications can be added to workflows without doing anything too complex, and it's easy to figure out how to use with minimal training.
They have a very responsive customer support team that is there to help if you need anything, as well as a library of information available from the workspace. All of the paid plan options come with premium support, which means you'll have priority and get solutions to any issues quickly.
Along with customer support, the help library goes in-depth and gives you plenty of information that should put you in the right direction. As a smaller automation software brand, the prices are affordable and you can do quite a bit with the free plan, as well.
Cons
Compared to competitors, Integrately is lacking when it comes to native integrations. Pair that with an inability to build custom integrations, and you're left with a lot of limitations. Yes, most of the big names are there like Slack and Google Suite, but the larger your business gets or the more niche, you may not find what you're looking for in Integrately.
There is also no mobile app, so you're limited to desktop-only features for now, which can be a no-go for some businesses.
Community and Partner Ecosystem
Integrately has an active blog on their website with regular contributions. There is a r/Integrately page that is not active, with only a few posts. Integrately also has an active Facebook page. As far as the community is concerned, there are not a lot of external links on their website for engagement with other users as you'd find with other automation software.
The partner ecosystem is also difficult to find. According to Partnerbase, Integrately has an active partnership with Kihbba. It also lists that Integrately has about 23 known partnerships. Integrately's website does have a link to integrate your own SaaS with their program, and an option to embed automation to your own website.  
With the embed option, you can embed a widget into your application once you're integrated with the platform. That way, your users can browse the automation templates that are available with your SaaS, and see what kind of things Integrately can do for them.
Final Thoughts on Integrately
Overall, the idea of Integratelty is great. Simple software that anyone can use to create integrations with a few clicks seamlessly is going to draw in business owners that have been afraid of automation software in the past.
With this simplistic idea, however, come many limitations. For users who want to create complex workflows, it's likely not possible with this software. Integrately strongly encourages the use of their premade automation templates, and you are only given the option to create your own with pairings that they don't have them built for.
Integrately is probably not the best option for a large-scale enterprise. You aren't going to get the same type of security and efficiency that you'll get with programs like Workato that are designed for institutions with sensitive data. This software is best used by small businesses that may not have the budget for bigger-name automation programs just yet.
 If you want software you can set up easy automation within a minute, give it a shot and see if it works for you. If you want to do anything that's even one step more complex, maybe skip this software and go with something like Zapier or Make.