Airtable
Airtable is cloud-based automation software that works like a database but looks like a spreadsheet. The software can be used for project management and automating tasks with app integration.
Airtable is a platform that makes it easy to build powerful, custom apps. These tools can speed up almost any process, workflow, or project. The best part is that you don't need to know how to code to make them. Airtable's customers use the platform to do everything from keep track of inventory to manage large-scale video production.
Airtable is a flexible and powerful database that was made from the ground up to handle your most complex and specific workflows. Not only can you use it to keep track of all the information related to your goals and objectives, you can also connect it to your other tools to automate tasks like posting a tweet or sending an email update.
Airtable's Mission Statement
Airtable's mission statement is "to empower people to bring their creative visions to life!" The software can be used for project management, content pipelines, event planning and keeping track of research. While it may look like nothing special at first glance, Airtable is a versatile platform with tons of customizable options, to truly bring your vision to life at the speed of thought!
Airtable is a cloud-based software system, so users can collaborate online from anywhere in the world as long as they have an internet connection. The main functions of Airtable are no-code, but there are low-code options as well for those who want to build out functions. Databases can be stored online to share and edit between workspaces. It's perfect for teams that are working remotely and need to access the same interface.
With Airtable, you can manage databases that are far more complex than a simple spreadsheet. How many times have you been using a program like Microsoft Excel and had to look up a function online? With Airtable, you can manage data in a much easier way. It's important to understand that a database is slightly different than a spreadsheet when talking about Airtable.
A database is simply a set of things that are grouped together. As a business owner or freelancer, you probably have several databases that you reference daily. Sometimes this data isn't in a format that will work with a spreadsheet. That's where Airtable comes in!
For example, you can utilize Airtable to keep track of workflow among your writing team if you are working on blog posts. You can assign tasks directly to your team through Airtable and keep track of everything. With added automation features, you can create triggers so you get alerts when items are completed, and use integrations to send messages to other apps like Slack.
Airtable is great for businesses, but you can also use it for personal things like keeping track of your massive VHS collection but keep in mind you will have to do all of this manually, which is a drawback considering there are several platforms out there that are specific to certain items like wine and vinyl records that perform the same function.
One of the biggest perks of Airtable is how customizable the platform is. When you set up an account, you can choose from several data-style templates to design your dashboard. You can even choose different colors and avatars for each project. The more experience you have with software, the better you'll be able to manipulate these features, as well.
Integrations
As a project management software, Airtable offers several Airtable no-code native integrations. They are available to users across all plan types.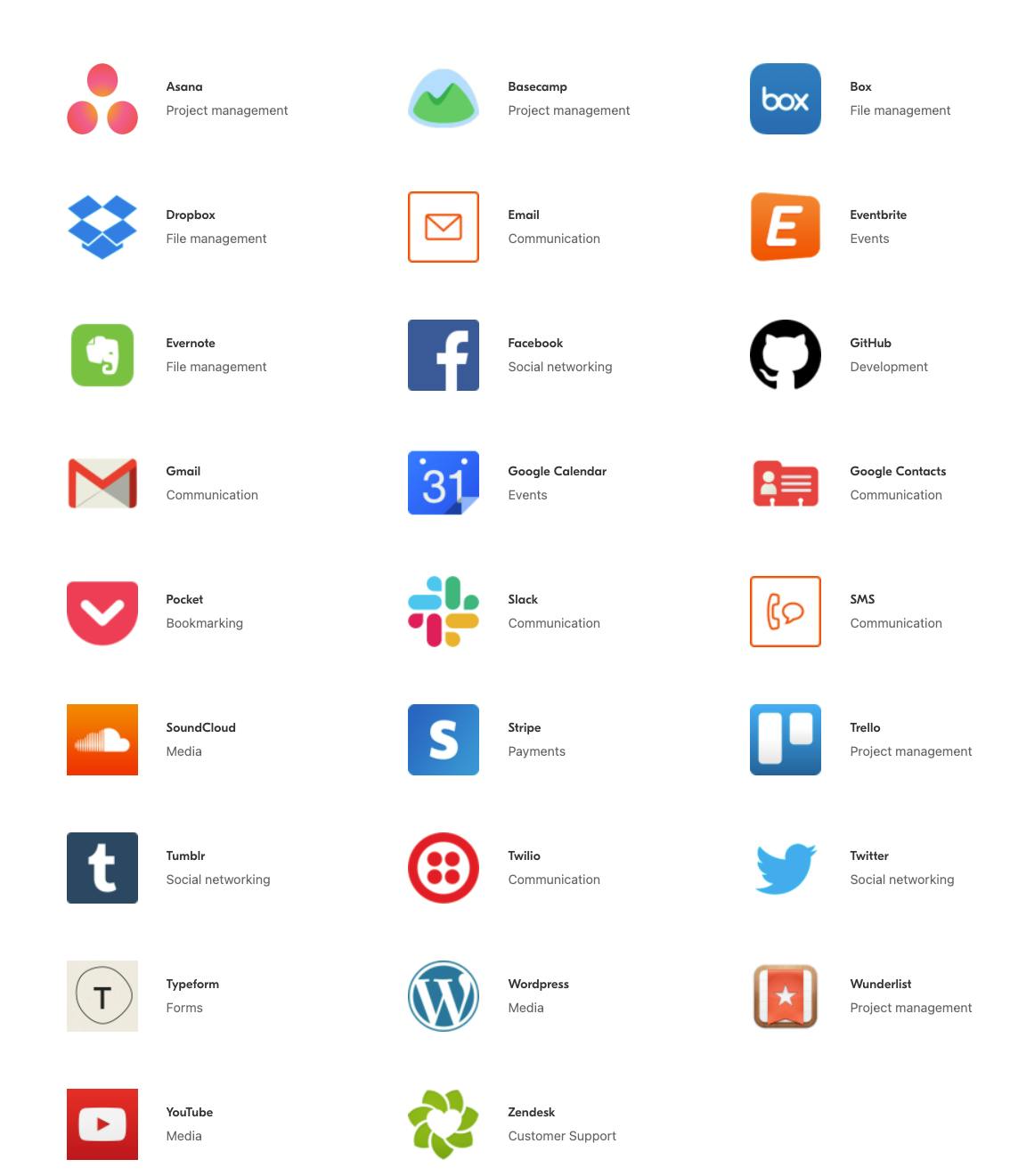 With integrations, you can send data from Airtable directly to these apps, and others that are in the database. Airtable also has a list of partner apps that have been built by a partner that is accessible in their higher plans.
While there aren't thousands of native integrations, Airtable still has some of the most commonly used apps available to users. Using native integrations is the best option for users who don't know much about tech, and all they have to do is search and find the app within the software.
If there's an app you'd like integrated into Airtable, there's a way to ask Airtable submit a request to see if they can add it in for you. As far as automation is concerned, Airtable states on their website that you can use software like Zapier or Make to utilize their integrations within the platform, as well. So, if the native integrations don't have what you need, there are options.
Pricing
As far as pricing is concerned, Airtable doesn't stand out as cheap or expensive. It falls somewhere in the middle, and it'll be up to you and your preferences if it's worth it. There are several different plans including a free plan to choose from.
Free Plan
The free plan is great if you're just starting out and want to see if 

Airtable

 is a good fit for you. Unlike other software, 

Airtable

's free plan allows you to add up to 5 users. So, while you have a small team this could be a good option for project management and trying out the automation features.
Plus Plan
Once your team starts growing, it might be time to use the Plus Plan. You get everything in the free plan, plus more storage and upgrades. Keep in mind that you pay per user with this plan.
Pro Plan
This plan is listed as their most popular. You also pay per person with this plan and get some extra features, but nothing substantial compared to the Plus Plan.
Enterprise
This plan is catered to businesses that have scaled up and need all the features they can get their hands on. You must contact their sales team to get pricing for this plan.
Keep in mind the prices of plans for any automation software are subject to change. You can check out Airtable's pricing here. Pricing per user can be great if you're starting out small, but it can add up quickly if you're scaling your business at an alarming rate. It's always a good idea to try out the free version first to see if you can work with it before shelling out cash.
Enterprise Features
Airtable has an entire page on their website dedicated to enterprises, and a plan option for larger companies as well. You have to contact Airtable directly to get a price quote for the enterprise plan. This is great because when you're operating on such a large scale, every enterprise is going to have different needs and a lot more of them than a solo freelancer.
They advertise that using the enterprise plan will mean 95% less time spent on data entry and 4 times faster content publishing. It's ideal for connecting large teams that are spread out due to remote working environments.
Again, Airtable is a fabulous project management tool which is why it's so great for enterprises. This information is not directly related to their automation tool, but the software as a whole. When using Airtable's Enterprise option, it's a good idea to also use another automation platform for more integrations and automation reliability.
It's easy to sign up for Airtable, and it's free with no obligation to try a paid plan. When you enter your information, you're immediately given the option to sync your data from programs like Google Sheets, so they try to make the transition as easy as possible for you.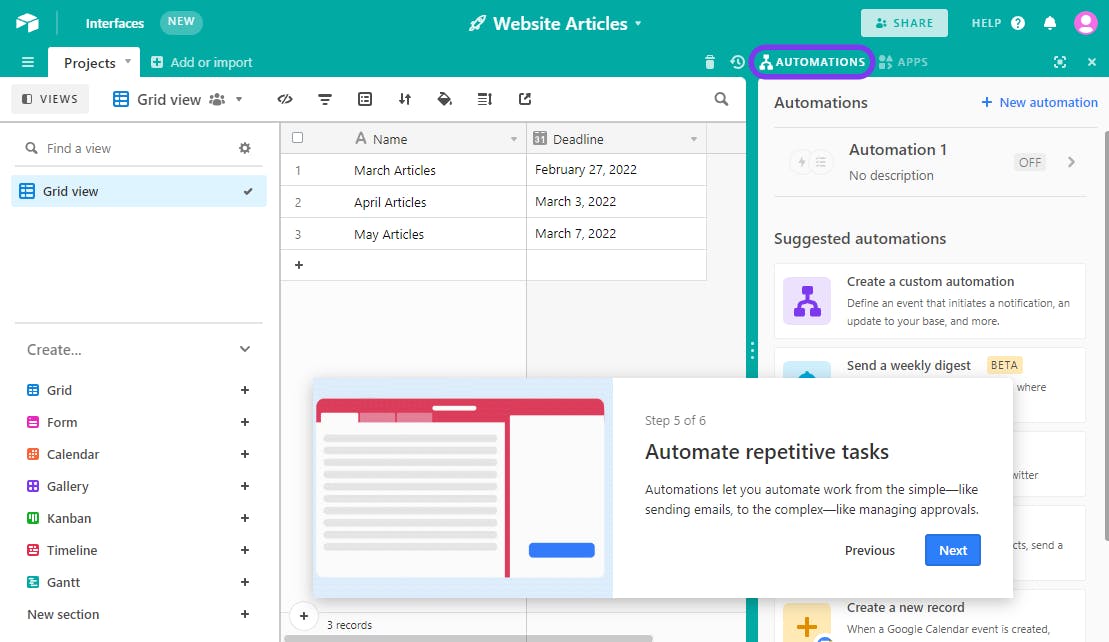 When you set up a workspace, Airtable gives you a crash course on how to use the main functions of the software, including automation. As you can see, it does look like a spreadsheet but with many more functions. The image above shows the default layout, but there are interface design options as well.
You can create a simple workspace within minutes and set up automation for forms, emails, and other tasks. In the templates, Airtable does the work for you. You can choose from project tracking, product launch, content calendars, and more for a good starting point.
When you go to create automation, Airtable gives you a list of functions and that's it. All of these options are no-code, which is nice and easy to use but can be very limiting. This is typically why it's best to use Airtable with another automation software.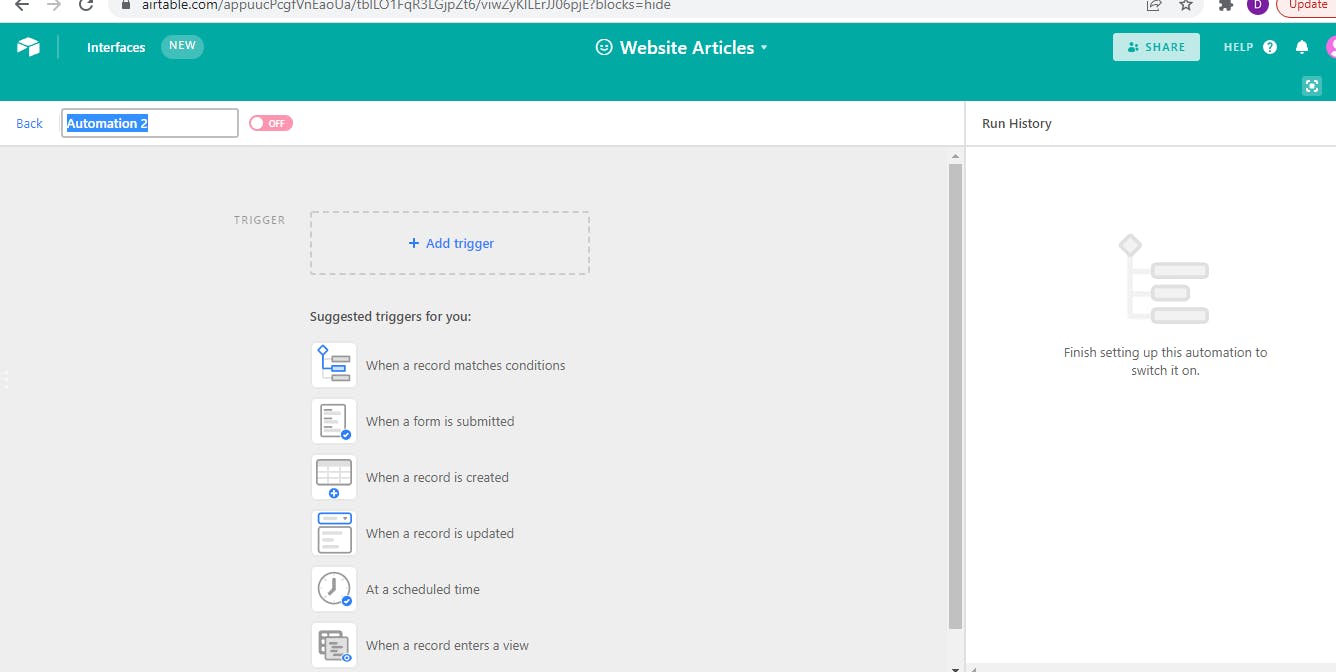 For the interface designer, you can choose from templates or create your own. This is great for people who are particular about how their data look or prefer it in a certain format. Airtable gives you a lot more to work with than a simple spreadsheet.
Along with the interface designer, Airtable has plenty of templates for your work and organizational preferences. Everything is maintained on a simple dashboard that's pretty easy to navigate. You also have the option to integrate existing data into Airtable.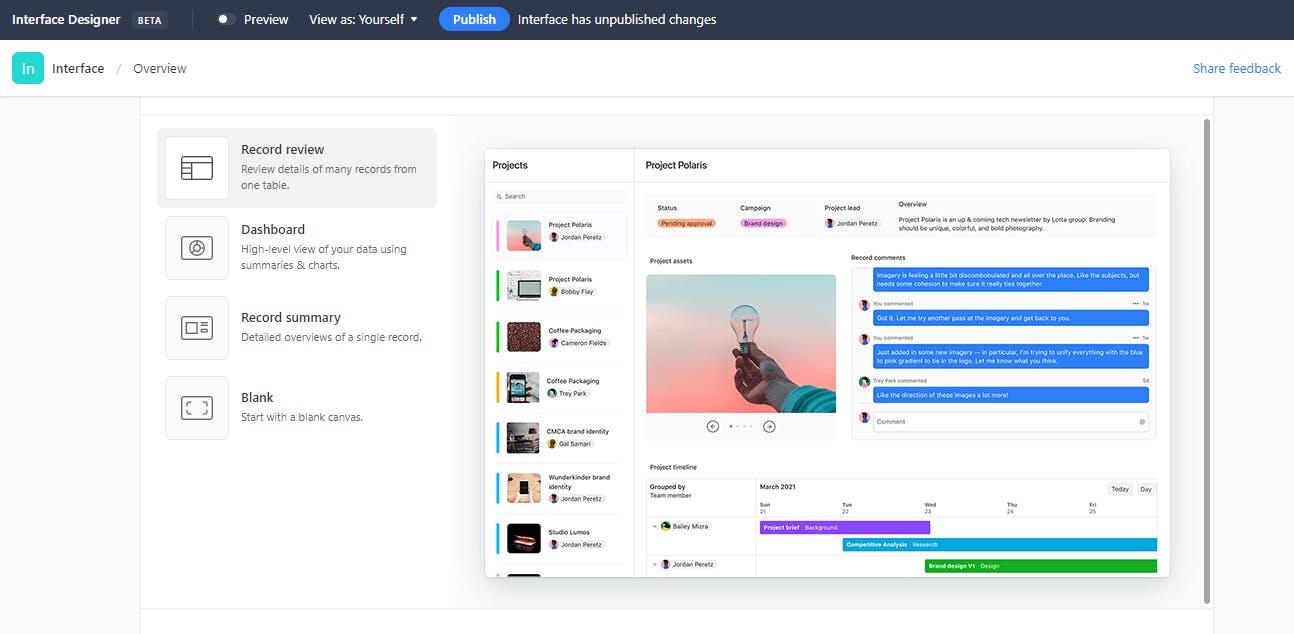 Overall, the interface is pretty intuitive but can take some getting used to if you don't use software frequently. There are plenty of helpful tools to help you along the way, and a customer support team if you need it.
Complexity
As far as complexity is concerned,  Airtable is pretty straightforward. If you're using it for basic project management tasks, it should be pretty easy for your team to figure out. You don't have to go digging around to find the main functions that Airtable does.
If you're not familiar with project management software, it can be a little confusing to get started with, but there are tutorials and forums to help you when you need it. With custom app options and interface designs, you can make Airtable as complex, or as simple as you'd like it to be.
Pros & Cons
Pros
Airtable lets you easily create and edit your own database with many different types of fields, ranging from simple numbers to image attachments. It also gives you the ability to create various visualizations for your data.

It charges by the amount of time you spend using it, rather than how much you use it. Airtable charges per user, not per action, so you can start with a small group of employees and scale up over time.

Every record has an associated text chat, and users can leave messages to and tag their collaborators. This enables, for example, two salespeople to talk about a feedback meeting right on the record that refers to the meeting. Airtable workspaces are collections of bases, and the product revolves around them.

Airtable is well-optimized for project management, with Kanbans and Gantt charts. If you are an internet company, or from a similar segment, Airtable's features are more tailored to needs you're likely to have. There is also a lot of similar software available, such as Coda.io. Mobile apps are often overlooked by back office platforms. While functional, the Airtable mobile app is more of a condensed version of the true experience. It may feel more like an accessory than the real deal when you need to use it in-between desktops.
Cons
Airtable's tables can be customized to a satisfactory degree, but the options for user access levels fail to live up to the flexibility the rest of the platform provides. It's not currently possible to hide certain fields from users completely or provide granular access levels.

Out-of-the-box. Airtable solutions are amazing to get you started, but they aren't able to take the next step and solve more complex problems when you need them to without the use of code. Users can opt to create integrations via API or automate tables using a no-code wizard.

Workspaces are not just per user, but per user per workspace. This means that you may have to pay twice for two people to access the same data and work on it.
Community and Partner Ecosystem
Community
Airtable has a very active community with a discussion forum that you can find here. Here you can keep up with the latest updates and announcements that Airtable has, as well as questions people in the Airtable user community are asking. There are plenty of community members to help you if you have a question. Airtable also offers plenty of free resources such as blogs and customer support that you can access directly from their website.
Airtable Universe
Airtable also offers a different kind of publishing platform under the name Airtable Universe. Anyone has the ability to publish processes that assist them in operating their enterprises, maintaining order in their lives, or pursuing their interests.
Partners
Building workflows, linking teams and data, optimising automations, and so much more can be done with the assistance of Airtable's pre-approved consultants, who can also help you get more out of Airtable. Saastronomical is one of the top Airtable partners.
Final Thoughts on Airtable
To sum it up, Airtable is a great project management software. It's not, however, the best automation software. If you're planning to use Airtable for your team, consider an additional platform to integrate into Airtable for automation.
The customizable features with low-code capabilities make it a good option for someone with tech experience that still wants something easy to use. You are limited, but not as much as some of the other platforms out there that are meant for newbies.
If you want to try Airtable out and see if it's right for you, you can sign up for a free plan and check it out. You can create easy-to-use projects from their vast library of templates within minutes, and customize how they look. Overall, it's a decent software to try out if you're in need of a project management tool or are tired of using Google Sheets and Excel. You can even import the data from other programs very easily.